Andre Villas-Boas is staying focused after Tottenham's important win over Arsenal at the weekend, with the Spurs manager insisting there is still work to be done as Arsene Wenger is left to rely on sides to slip up for the Gunners to reach the Champions League.
Tottenham cemented third place in the table after a 2-1 win over their bitter rivals, with first half goals from Gareth Bale and Neil Lennon proving too much for Arsenal to come back.
Per Mertesacker made the game interesting with a headed goal in the 51st minute, but Arsenal were unable to equalise even with six minutes of extra time added at the end. And Wenger believes this was the decisive factor, even though he felt his side were bossing the game most of the time.
"Suddenly we were 2-0 down after a tight opening," he explained to BBC Sport. "We were on top of the game when we conceded two goals. My team produced a lot of energy and desire but we were not decisive enough in either penalty area.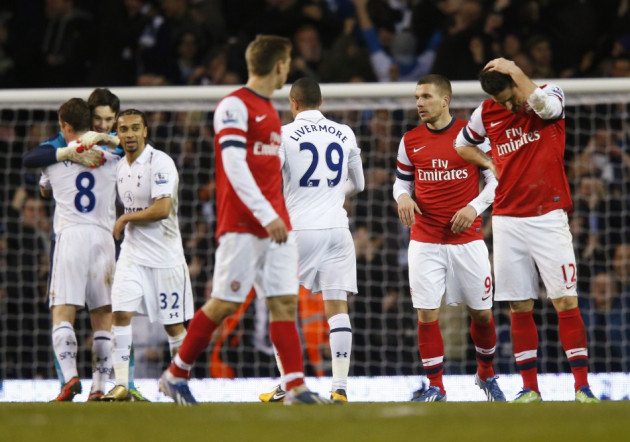 "We played offside at the back when we shouldn't have done it. I feel sorry for the team and the fans. It's difficult to swallow.
"We have to fight. It will be difficult to come in the top four now as we dropped points we couldn't afford to drop."
For Arsenal, the fight now comes down to Tottenham and Chelsea slipping up in their big matches. But for Andre Villas-Boas' side, this week will be all about making sure they stay focused and keep their lead in the fight for a top four spot.
Every game up until the end of the season is now crucial, and Villas-Boas is well aware of this fact.
He explained: "It was a very, very important win. We still have to fight hard, we have big weekends to come and we need to keep doing our job.
"There is so much to go still. The motivation now is different, we are extremely confident and Arsenal are at a low."
Tottenham skipper Michael Dawson, whose leadership in defence proved vital in the derby win, added: "It's massive. To go seven points clear is massive. We've got a great squad, it wasn't our best performance and we want to be back in the Champions League.
"The fans go home happy and they will be buzzing."