Tottenham new boy Christian Eriksen believes that he is not yet in the same pedigree as Mesut Ozil yet but hopes to take his game to the German's level in the next few years. The Dane played an impressive part in the north London club's 2-0 win over Norwich, participating in the build-up to both goals and guaranteed his new club scored their first goal from open play this season.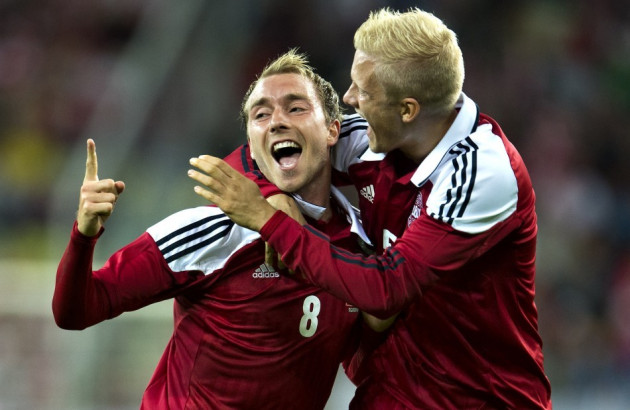 Ozil was a revelation in himself for the Gunners, taking only 10 minutes to make his mark in the Premier League, providing a brilliant assist for Olivier Giroud who slotted cleanly past a diving goalkeeper. The £42.5m German is the leading assist maker in the whole of Europe over the last three seasons and is likely to take the Gunners to a different level with his industry this season.
"I think Ozil has achieved a little bit more than me! I am a few years younger and still have to learn a lot but it is nice to be compared. Some players are booed in the first games and then are good. Hopefully the fans will not do that to me! But there will be mistakes. I am 21, but I hope I will make as few mistakes as possible," Eriksen said.
The playmaker also revealed that his rumoured move to Liverpool was never on and that it was all paper talk as the Reds never followed up on their interest. The 21-year-old claimed that Spurs Chairman Daniel Levy and Franco Baldini sold the club to him by which he was greatly impressed.
"I talked a little bit with the manager but I had more to do with the chairman and the director Baldini. They were they guys who really had the right words. It really impressed me that they wanted it so badly and wanted to do it so quickly. The first contact was with my agent and they talked and discussed all the things they normally do," he explained.
"Then afterwards my agent talked to me and I said, 'Go on, I really want to hear what they have got to say'. The day after he was [in London] to look and see everything and talk with the big men, then the day after, they went to Amsterdam to negotiate with Ajax. The next day, Monday, I was here for a medical. It went really quick. Just four days," he concluded.