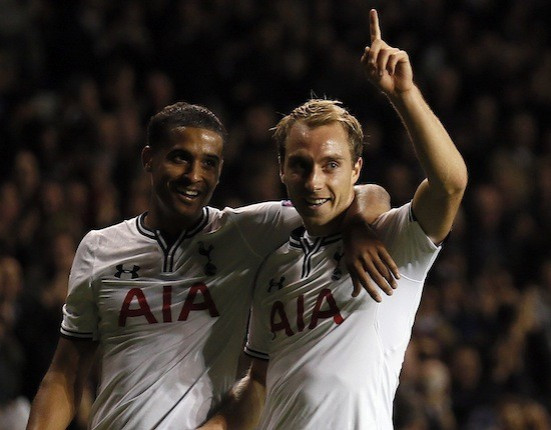 Christian Eriksen believes that Tottenham should not just target a top four finish as he believes the squad has the ability to win the Premier League title this season
Eriksen made the move to Spurs in the final days of the summer transfer window and has so far made a positive impression on supporters.
The playmaker has often spoken about his ambitions to play for a side that can challenge for trophies and as Tottenham sit in fourth position in the Premier League table, the Denmark international has claimed that he believes they can reach even higher.
"It's realistic," he told reporters when asked if Spurs could challenge for the title. "We're up there. We want to go in the top four and we have the team to try to become number one. Everyone would be satisfied with the Champions League next year but if we're in the top four, we're going to go for first."
Eriksen was one of a host of attacking players signed by Andre Villas-Boas in the hopes of filling the void left by the departed Gareth Bale.
But so far the forward line has failed to impress with Spurs scoring just nine goals in their opening nine Premier Leaguematches. Incoming striker Roberto Soldado seems to have found his scoring touch recently, having scored twice in his last two matches but Villas-Boas has admitted that Erik Lamela has yet to produce his best for the club.
Tottenham have come painstakingly close to qualifying for Champions League football in the last two seasons and Villas-Boas has made it clear that finishing in the top four will make for a successful season for the side.
But should they be able to take advantage of Manchester City and Manchester United struggling to click into gear, thenTottenham will have every chance of challenging for top spot in the table.