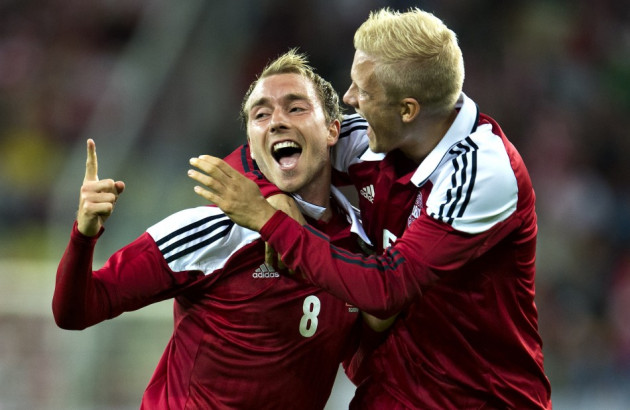 Denmark manager Morten Olson is confident that Christian Eriksen can be a huge success at Tottenham Hotspur after making the bold decision to leave Dutch champions Ajax.
The 21 year old was in the final 12 months of his contract at the Amsterdam Arena and always made it clear that he favoured a move to the Premier League in order to further his career.
Eriksen won three consecutive league titles in Holland and was a regular performer in the Champions League but will now concentrate on helping Tottenham secure a top four finish.
Andre Villas-Boas brought in seven new players over the summer but it seemed they would take a while to gel after Arsenal secured a 1-0 victory over their north London rivals last weekend.
However, Olson feels as though Eriksen will be able to quickly adapt as he is technically extremely gifted and understands the game well.
"Yes, I think [Christian can flourish]," Olson told Dabish website dr.dk. "[Tottenham] are a top six team in one of the world's top leagues and they are a team that play the type of technical football that Christian needs.
"Now he has taken the next step, and he has the technique and the football intelligence to do it, but the Bundesliga and the Premier League are perhaps the most physical tournaments.
"The pace is different to Holland, but it is just a matter of time until he gets used to it, because he is going to train a lot with quality players. I do feel he can adapt relatively quickly."
Eriksen told the official Tottenham website that he is confident he can help the side push for a place in next season's Champions League - a competition he feels Spurs need to be regularly competing in.
"I have played Champions League for the past four years at Ajax and I know what it is about," said Eriksen.
"It's the best place to be, so of course everyone wants that and me too. I think [my target is] what everyone wants, to be one of the top three or maybe on the top."