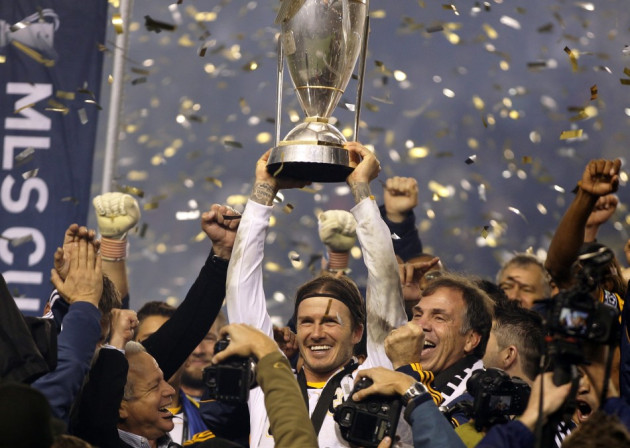 David Beckham downplayed speculation over his future after he helped Los Angeles Galaxy win the MLS Cup with victory over Houston Dynamo Sunday.
Beckham and Robbie Keane combined to set up Landon Donovan for the decisive goal in a 1-0 victory at the Home Dept Centre, California.
The win gave Beckham his first silverware since moving to America in 2005 in what was widely considered to be his final match for Galaxy.
The former England captain's contract expires at the end of December but he refused to be drawn on rumours linking him with a move to Europe.
"Whether I stay or not, I've had an amazing five years," the 36-year-old told ESPN.
"I've loved it here. The fans have been unbelievable, the owners, the players ... every one of them are heroes tonight. They've been incredible all season and this has capped it off," he added.
"I've been lucky throughout my career to play for the biggest clubs in the world, at Real Madrid and Manchester United, and now for the biggest club in America.
"And winning feels exactly the same wherever you are. It doesn't matter where I'm playing, what country, what club it is, but when you are successful and winning trophies they all mean the same thing."
Beckham's contract runs out on 31 December and he has made it clear he wants to represent Great Britain's Olympic football team at the London 2012 Games.
The midfielder has been heavily linked with a move to Paris-Saint Germain and Tottenham and he reiterated that winning the MLC Cup would not influence his decision to stay or go.
"I've said that all the way along," he added. "It doesn't matter what happens at the end of the season. People were talking about if we didn't win tonight it was going to be a disappointment and an unsuccessful five years. It's quietened a few people, which is always nice."
Reports over the weekend suggested Beckham was on the verge of a move to the French capital and Spurs manager Harry Redknapp has conceded he may struggle to convince the former Manchester United star to move to north London.
"It's a difficult one. I had him training here last year not only as a player but as a fellow around the place, he was a different class. Everybody absolutely loved him, he had time for everyone - he was just superb.
"He was great to show any young player how to behave, you come in you train hard, he was the first one in every day, he left late, he'd go to the gym after training, he had time to sign everybody's autographs.
"He's still a fantastic footballer. The problem is that he plays wide right. I've got Aaron Lennon who plays there, Rafael Van Der Vaart can play there at a pinch in certain games.
"Where ever he goes he's going to want to play so it's not going to be easy to say I can guarantee him a place in the team, that's the problem."
The midfielder is set to take part in LA Galaxy's December tour of Indonesia, the Philippines and Australia before making a decision over his future.
"I wouldn't say it's a definite no-no with Tottenham but I think he's going to want to play regularly, that's the problem," Redknapp told talkSPORT.
"I couldn't sit and say he'd play every game, if he wants to play every game it may be a problem. I could see him coming back to England somewhere and playing, I'm sure there will be plenty of takers.
"You'd want him around your football club because he's such a good influence on everybody."