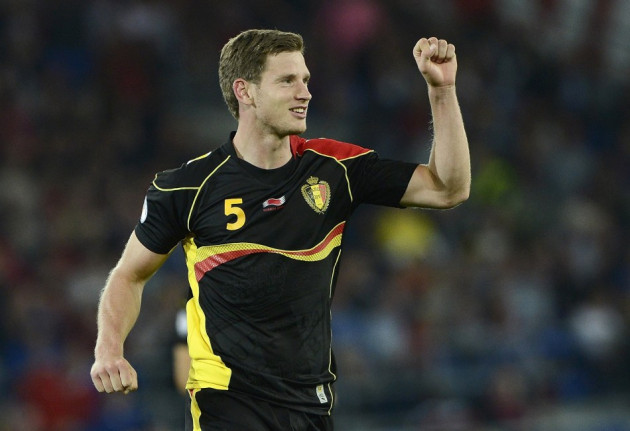 Tottenham Hotspur defender Jan Vertonghen claims that Arsenal tried to sign him during the summer transfer window.
The Belgium international, who joined the ranks at White Hart Lane in July from Ajax, has now stated he was being pursued by the north London rivals but chose to join Spurs as club chairman Daniel Levy and some of the players gave him a good feeling about the move.
"They gave me a good feeling. The chairman, Daniel Levy, was good and I talked with Rafael van der Vaart. They invited me here and gave me the best feeling in the world. From that moment on I said to myself, 'I want to play here'," the Daily Star quoted Vertonghen as saying.
"I know Arsenal were interested but I had already made the decision in my head that I wanted to play here. I'm not one to switch all the time, I make my decision and then I go for it. I wanted to play for Spurs. It's as simple as that," the 25-year-old pointed out.
Vertonghen also took advice from Arsenal legend and Ajax's assistant coach Dennis Bergkamp, but the Dutchman's influence did not sway the balance in Gunners' favour.
"He [Bergkamp] knows Tottenham is a big club too. He's a very good guy and I get along with him very well. He was very positive about both clubs and about London, and he just said make your choice," ESPN quoted the defender.
Vertonghen said that he also had talks with Belgium team-mate and Arsenal captain Thomas Vermaelen before coming to a decision.
"Thomas told me [the Arsenal - Tottenham rivalry] was like Ajax and Feyenoord. They're big rivals but when I walk down the street even the Arsenal fans have been very respectful," Goal.com quoted Vertonghen as saying.
The Premier League has been witnessing an influx of Belgium internationals over the past few years. The likes of Vermaelen, Vincent Kompany, Marouane Fellaini, Moussa Dembele and Romelu Lukaku have all made a positive impression in England in previous seasons. And now with the arrival of Vertonghen, Eden Hazard and Kevin Mirallas this summer, the Euorpean nation, who are fast becoming a footballing powerhouse, have added more flair to the English top flight.