Real Madrid will reportedly have to launch a record-breaking offer of over £80m - plus Luka Modric - to prise away long-time target Gareth Bale from Tottenham Hotspur in this transfer window.
The Welsh winger, who scored 21 goals in the Premier League last season, has been strongly linked with a big-money move to the Bernabeu for the last couple of months. Spurs have so far remained adamant they would not sell their talisman, as Andre Villas-Boas is keen on leading the club to Champions League qualification next season.
Madrid are now understood to be preparing a record-breaking £85m bid for Bale but Tottenham chairman Daniel Levy is expected to reject it as well. However, according to the Daily Mirror, the club's not-for-sale stance on the 24-year-old is softening and if the Spanish giants offer former Spurs playmaker Modric, along with that figure, the north London club might finally allow Bale to leave.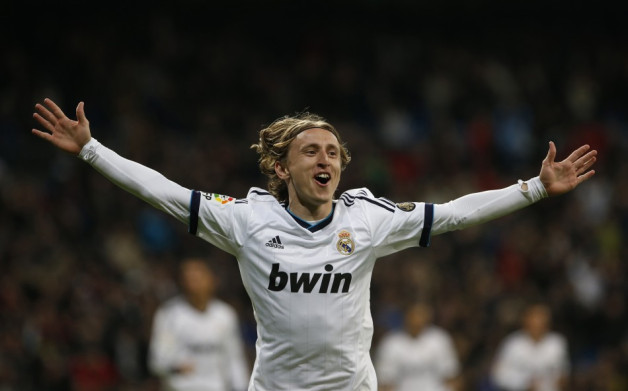 Modric had left White Hart Lane and moved to the Bernabeu for £33m in a highly protracted transfer saga last summer. However, the Croat failed to establish himself in the club's star-studded line-up and was voted as La Liga's worst signing of the season. The 27-year-old had earlier insisted he had no intention of leaving Madrid but if the Meringues are ready to part with him to land Bale, the midfielder might not have much of a choice but to consider the return to north London option.
Either Fabio Coentrao or Angel di Maria were previously understood to be the player who would move to White Hart Lane from the Bernabeu, as part of the Bale deal. However, the report claims Levy is now determined to push Madrid all the way in this transfer battle and get his club's former talisman Modric back.
Meanwhile, Madrid defender Sergio Ramos feels Bale's £85m price tag is only a fair amount, given the player's quality.
The Welshman is valued higher than Cristiano Ronaldo, sold by Manchester United to Madrid for £80m in 2009.
"The price of players is determined by the market. He's not very expensive from my point of view. It's important that there are young, national players on this squad because a national core is very important," Ramos said.
"But from there it's wonderful to have great players. It's a good philosophy and a good project. The president [Florentino Perez] and [manager Carlo] Ancelotti will decide if he needs to come here," he added.