Ajax midfielder Christian Eriksen expressed his interest in a move to Tottenham Hotspur and revealed he would make a decision on his future in the next fortnight.
The Denmark international has less than a year left on his contract with the Dutch giants and has been attracting attention from a host of top clubs, including Spurs, Liverpool and Borussia Dortmund.
Eriksen stated no negotiations have taken place with any potential suitor or with Ajax, over a new contract. The 21-year-old claims he has turned down offers from Russia and prefers a move to one of Europe's big leagues.
"Tottenham are a great club. I know from [Jan] Vertonghen (who moved from Ajax to Spurs last summer). It is good club which is interesting but there has not been anything. We'll find out in two weeks. There are to my knowledge no negotiations right now either with a new club or Ajax," BT quoted Eriksen as saying.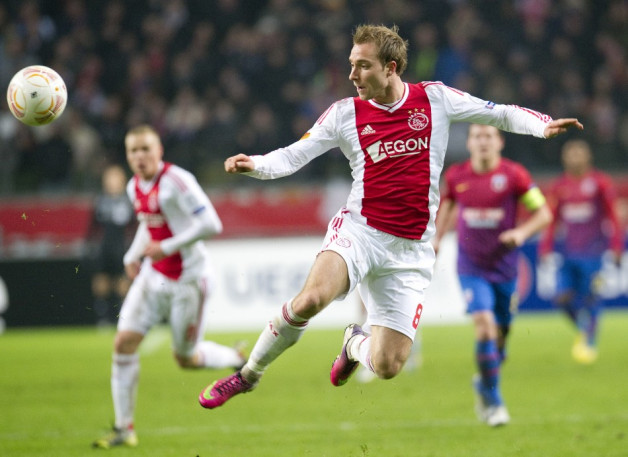 "Yes, there are Russian clubs that have called and made bids. I did not take a long time to refuse. There are many who look differently at it. But I do not want to Russia at 21 years old. If you do it for the money, there are many who go to Russia, but I do not look at money. I would like to join one of the five major leagues," the playmaker added.
Eriksen also pointed out he has no problems in continuing at Ajax or signing a contract extension, if he does not find an interesting offer on the table in the next couple of weeks.
"It's still the same starting point. If there is something interesting, so I look at it, but otherwise I am in Ajax. If there is a good approach, I see as an opportunity to try something new, but if nothing comes, I do not mind being," the player said.
Eriksen has scored 31 goals from 160 appearances in all competitions for Ajax, after breaking into their first team in 2009. The player also has 36 senior international caps for Denmark.