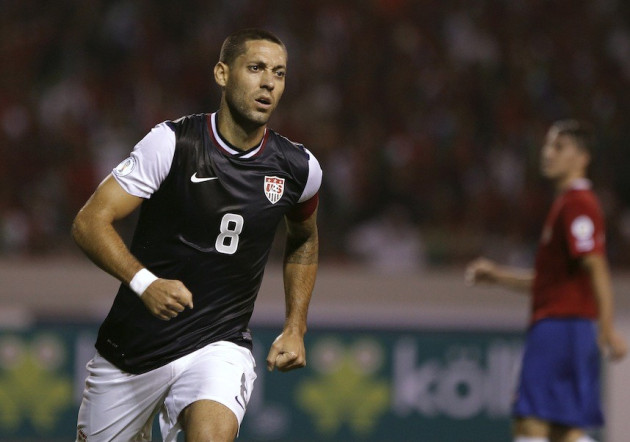 Clint Dempsey could be set for a surprise return to Tottenham in January if reports are correct with Spurs considering making a bid to take the American on loan when the MLS season comes to an end.
Dempsey was sold by Spurs to American side Seattle Sounders during the summer but the north London club have first option to bring him back on a three month loan if he agrees to the move.
Everton and Fulham are also believed to be interested in taking the 30 year old on a temporary basis but the Daily Mirror and Sunday People are reporting that Tottenham are also in the mix to take the forward on in the Premier League once more.
Dempsey was sold to Tottenham from Fulham in the 2012 summer transfer window with the club snaring the attacking star from Liverpool's clutches in the last minutes of deadline day.
But over the 2012-13 campaign Dempsey failed to impress Andre Villas-Boas and after signing Roberto Soldado and a host of attacking players to support the Spaniard this summer the manager allowed Dempsey to go back to his native country.
Dempsey admitted at the time that although he wasn't expecting the move he holds his country's domestic game very close to his heart and wanted to be able to make a positive impact on the MLS which is still growing to compete with the country's top sports.
He said: "The right situation came along and MLS and Seattle Sounders, they moved mountains to get me back and I wanted to come back whilst I could still do it, I wanted to come back and make an impact.
"I don't know what my effect will be, I am looking forward to getting back and playing more the South America style, having that creative freedom and getting on the ball."
But Dempsey's decision over his loan spell in the Premier League will likely come down to which club can offer him the most game time, possibly putting Fulham and Everton at an advantage over Tottenham.