Tottenham Forward Reveals He Will Fullfill Contract Despite Frustrations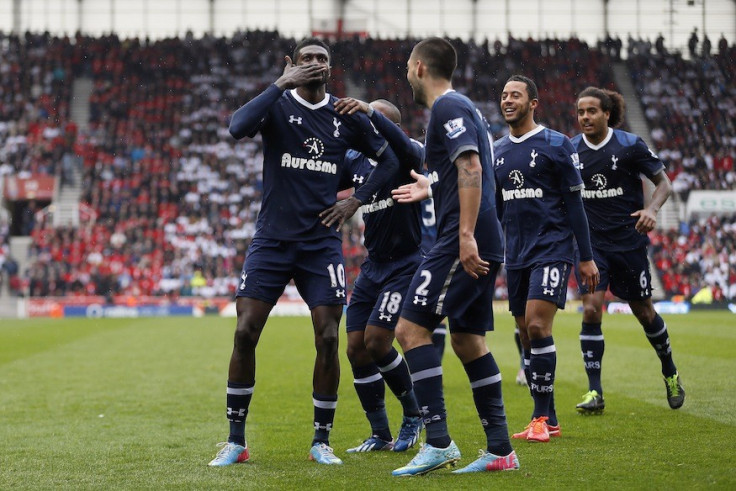 Emmanuel Adebayor has admitted that he is struggling to accept his lack of game time with Tottenham Hotspur as the striker continues to be left on the sidelines behind Jermain Defoe and Roberto Soldado.
Adebayor is yet to feature for Spurs this season with the striker falling out of favour with AVB after a particularly disappointing 2012-13 campaign.
The summer purchase of Soldado seemed to make an exit for the Togo international certain but Villas-Boas has consistently said that he sees a future at Tottenham for Adebayor and no move eventuated in the summer.
Not giving the hitman a single minute of action this season would suggest otherwise and Adebayor has admitted that his situation is so frustrating that he doesn't believe he can stoop any lower with the side.
"I have tried to keep my belief but I cannot get any lower. If I am lower than this, it means I am dead," he told the Sun.
"What I found difficult was not training with the youth team, but when it is left to the physio to come and tell me, as one of the senior players in the squad, to go and train with the youth, I find it very difficult."
Adebayor insists though that he does not want to leave the club and wants to prove himself to Villas-Boas, explaining: "I have three years left on my contract and I'm not going anywhere.
"I'm fully committed, my fitness levels are getting back and I have unfinished business here."
Tottenham look to be struggling with their strikers at present as the side fell to a 0-0 draw with Everton at the weekend.
They have scored just nine goals in their opening 10 league matches as Soldado continues to settle into north London and Villas-Boas continually snubbing Adebayor for a place in the line-up certainly suggests he has a lot of work to do to get back in favour with the manager.
© Copyright IBTimes 2023. All rights reserved.