Ajax marketing director and former Manchester United goalkeeper Edwin van der Sar is confident playmaker Christian Eriksen will have a great future with Tottenham Hotspur.
The Denmark international is understood to be edging closer to move to Spurs, after Ajax granted the north London club permission to hold negotiations with the player. And despite wanting to keep the 21-year-old at Amsterdam, van der Sar believes he would impress at White Hart Lane.
"He's a very good player and I would be sorry if he were to leave us. He has great quality, is two-footed, is very quick, gives you a lot of pace on the ball and his corners and free kicks are very good, so I'm sure if he went to Tottenham he would be a great player there," the Dutch legend stressed.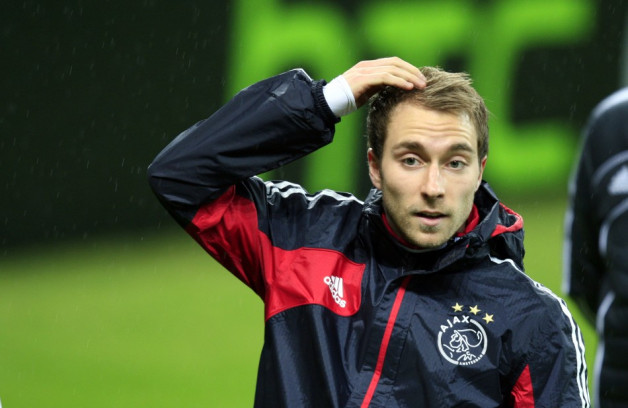 Eriksen, who broke into the Ajax first team during the 2009-10 season, has made over 160 appearances for the club in all competitions, scoring 32 goals. The Danish prodigy, who already has 37 senior international caps to his name, got off to a good start this season as well, netting two times in three Eredivisie appearances.
Meanwhile, van der Sar, who spent six years at United winning four Premier League titles and the 2008 Champions League and Club World Cup, also feels his former club can overcome the retirement of Sir Alex Ferguson and find success under new boss David Moyes.
"It's new for Man United. They haven't been in this position for 26 or 27 years. There are going to be comparisons every time, but they have experience in the squad with the players, who are all still there of course. It will be different training, maybe their approach is more technical when playing in Europe but I don't think it will be a problem for Man United," the 42-year-old pointed out.
Ajax were once again handed a tough draw in the Champions League, this time alongside Barcelona, AC Milan and Celtic in Group H. But van der Sar, who won the competition twice, said he is confident of his club's chances of making it to the knockout stages.
"I'm not worried at all, I'm looking forward to it. They're going to be great stadiums to play in. [Director of football] Marc Overmars and I have fond memories of Milan from the experiences we had as players," he added.