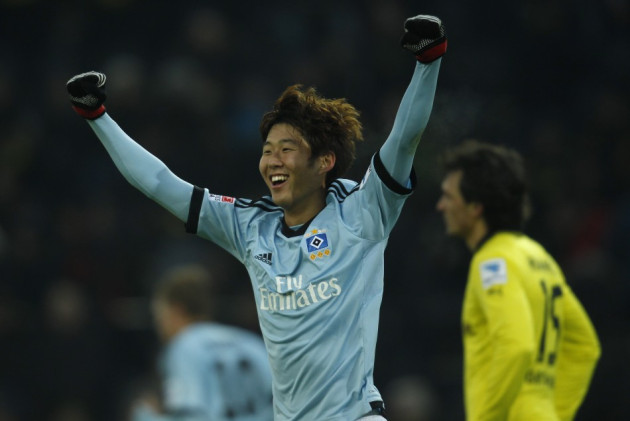 Tottenham target Heung-Min Son could be set for a move to Bayer Leverkusen which could in-turn free up Andre Schurrle to confirm a deal with Chelsea.
Son is entering into the final 12 months of his contract with Hamburg, and has so far refused to sign an extension as interest surrounds the young star.
His performances for the German club have shown a great deal of potential, with the South Korea international scoring 12 times in 33 appearances for the club last season.
As a result, Tottenham have reportedly been monitoring the situation surrounding Son's future, but now Leverkusen look to have stolen the march on the north London club and will put in a concrete offer for the starlet, according to German paper Kicker.
The move will provide a suitable replacement for Andre Schurrle who is very close to sealing a deal with Chelsea.
The German forward was set to move to west London in an exchange deal for Kevin de Bruyne on loan, but the Blues youngster has since openly talked about wanting a move to Borussia Dortmund, or proving himself at Chelsea under incoming manager Jose Mourinho.
While Bayer had been hoping to seal a deal for de Bruyne some weeks ago, Dortmund's loss of Mario Gotze threw a spanner in the works, with the side starting to look for more attacking players with their money.
There is believed to be an offer for de Bruyne worth about €17 million on the table but Chelsea are undecided as to whether to let go of the Belgium international who still offers a lot of promise for future success.
Meanwhile, Leverkusen have made it clear that they will only sell Schurrle to Chelsea if they can get a replacement. Son presents this option to the side which came third in the Bundesliga last season, and despite the ongoing interest from Tottenham, the carrot of Champions League football would be tempting.
The fact Son is just 21 is no doubt a drawing point as he has already established himself as a regular starter for Hamburg. He has received praise from the likes of Franz Beckenbauer, and is touted for big things when he has the chance to step up to a club that can offer both European and domestic football.