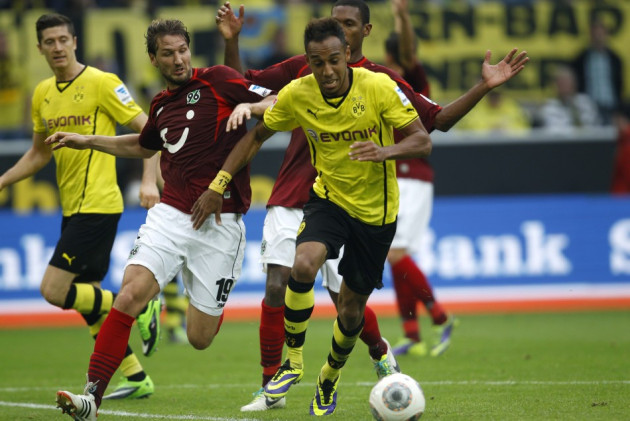 Borussia Dortmund striker Pierre-Emerick Aubameyang has revealed that Tottenham tried to sign him but insisted he will never consider joining the club after negotiations went 'a bit weird'.
Aubameyang made the move from St-Etienne to Borussia Dortmund earlier this summer as the German outfit looked to improve their attacking line-up in the absence of Mario Gotze and an impeding exit for Robert Lewandowski.
Spurs were said to be interested in taking on Aubameyang the year before as they looked to build on their own attacking line up and after a disappointing 2012-13 season in front of goal for the likes of Emmanuel Adebayor and Jermain Defoe the side certainly could have used the Gabon international's goals.
And now he has revealed that serious negotiations took place, though he has cryptically claimed that due to how those negotiations went he would never consider a move to White Hart Lane.
"Tottenham tried to sign me in June 2012," the Dortmund man said, according to the Express. "But in the end everything became a bit weird. I didn't really like the way things were done.
"So, if Spurs ever came back in for me, I'd say no."
Tottenham have since signed Roberto Soldado and the striker is touted for big things with Spurs as they look to challenge for a top four spot once more this season.
Since signing for Dortmund Aubameyang has scored five times for the side as they look to keep the pressure on league leaders Bayern Munich.
Dortmund currently have 22 points while Bayern are leading with 23, and after a tough weekend for Jurgen Klopp's men in which they struggled to pull off a 1-0 win over Hannover 96, Aubameyang insisted they are still very much a team to be feared in Germany.
"You have to win these games if you want to be at the top," he explained. "You can't play brilliantly every week and beat everyone by five or six goals.
"It was important to get the three points even with a mediocre performance and we're still in contention at the top of the table. And we didn't concede, so that's definitely a positive."