Tottenham Hotspur are believed to be in talks with Inter Milan playmaker Wesley Sneijder. The Mirror reports the north London club could sign the Dutchman for as low as £10m, a bargain price considering the Nerazzurri were holding out for £25m last summer.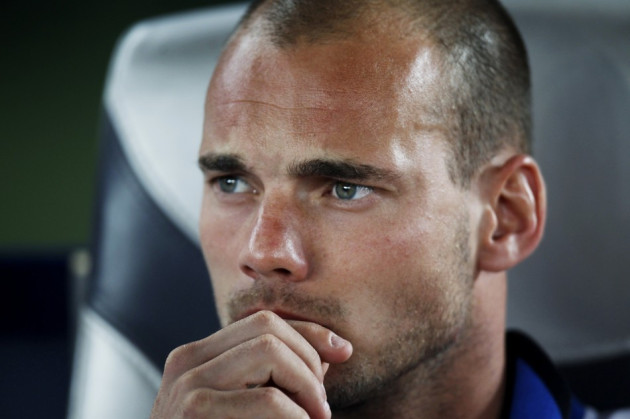 At the time Manchester United were heavily linked to the 28 year old, as a potential replacement for then-retiring ex-England international Paul Scholes. However, any move by the Old Trafford club this time around is likely to fail, given the animosity between Sneijder and compatriot Robin van Persie; the 29 year old ex-Arsenal striker joined the Red Devils in the summer. In any case, given the Premier League leaders signed Japanese playmaker Shinji Kagawa in the summer, they are unlikely to further burden their midfield.
Sneijder is paid a staggering £200,000 per week by Inter Milan, who have failed in attempts to persuade the midfielder to take a pay cut. The stand-off, the Daily Mail reported, led to the player being frozen out of the first team as punishment. Sneijder's present deal expires in 2015, meaning Inter will likely become more and more desperate to offload their former star, as the months tick by.
Unfortunately for them, Sneijder is as reluctant to take a pay cut to move clubs (and play regularly) as he is to accept lower wages and remain at Inter. And the Metro's speculation that Sir Alex Ferguson's reluctance to pay such high wages was a major problem in the failed transfer to Old Trafford is likely a correct one.
And this, in turn, could also mean problems for Tottenham, who do not have the wage structure in place (or finances) to offer such enormous wages.
Meanwhile, Sneijder's continuing absence from the Inter first team seems a clear indicator of the contractual stand-off between the two parties, a fact hinted at by Inter technical director Marco Branca.
"He is part of our history and we care for him but we are discussing a necessary contract modification with him," the ex-Italy international told Sky Italia, adding, "We will give him and his entourage the time to evaluate our proposal, so the decision not to use the player can be traced back to this wait for a more relaxed and clear situation. The club and coach are in agreement that until the player is in a clear state of mind, he will not play."
Finally, Sneijder's wife, Yolanthe Sneijder-Cabau, has let slip the Inter midfielder's family are about to leave their Milan home in January. And although the actress retracted the comments later, it was enough for rumours to circulate about a move to London.