Rafael van der Vaart says that while he hopes Tottenham get into the Champions League, he won't be leaving the club if they don't, with the playmaker insisting he's happy at White Hart Lane.
Spurs looked a sure thing to finish in the top four this season, but after winning just one of their last nine matches, the side are now in fifth place and a game behind fourth-placed Newcastle.
But Van der Vaart has never used the Champions League as a gauge for whether he would stay at Tottenham or not, with the Holland international claiming that he's not seeking greener pastures as the north London club go from strength to strength.
"Even if we don't manage to get into the Champions League, that is no reason for me to leave," he told the Sun on Sunday.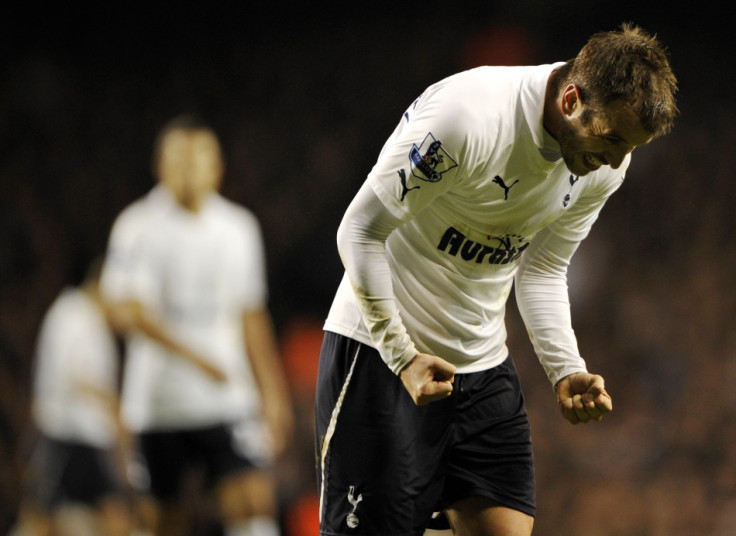 "Any young player wants to play for Barcelona, Manchester United or Real Madrid. But that is something I've done, and I am now happy at Spurs."
Van der Vaart said that while he wasn't leaving Tottenham, the star has gotten frustrated to the point of wanting to walk off the pitch, and the side's defeat at Stoke last December was a prime example of that.
"During our game at Stoke I really thought I was going to walk off after 25 minutes," he recalled.
"They did nothing but batter us, tackle and hit long balls. It is totally not my style, although they got a result with it."
Meanwhile, Harry Redknapp has conceded that Spurs must win all of their remaining fixtures to have a chance of a top-four finish, with the club desperate to return to Champions League action after a year in Europa League.
"I am very confident," he told the Telegraph when asked if they will finish at least fourth. "Although we might have to win all four [fixtures]. I can't see Chelsea losing many, they look very strong, and Newcastle are going great. But Chelsea have got to play Newcastle.
"Then Newcastle have got to play Manchester City so it is all to play for. We are still a point ahead of Chelsea. If we win all our games it doesn't matter what they do."
Tottenham face Blackburn, Bolton, Aston Villa and Fulham in their last four games.