A ferocious wildfire continues to rage virtually unchecked in thick brush after destroying dozens of houses near a highway corridor between Los Angeles and Las Vegas –forcing as many as 80,000 residents to flee their homes. The Blue Cut Fire, as it has been named, started as a small brush fire on Tuesday (16 August) in the mountainous Cajon Pass and has exploded to cover more than 40 square miles (100 sq km) of mountain and desert east of Los Angeles.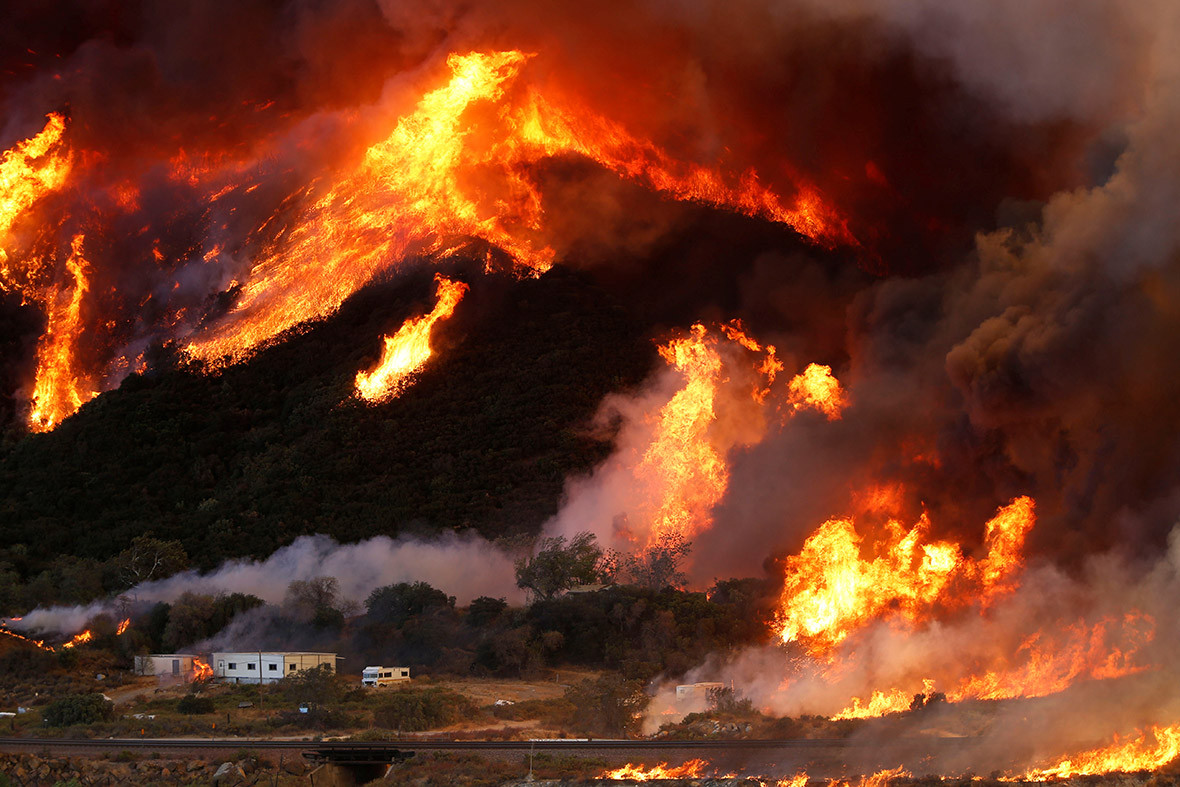 Firefighters described the blaze as unusually fierce, even for a year of intense wildfires in the US west, after years of drought. "In my 40 years of fighting fire, I've never seen fire behaviour so extreme as it was yesterday," Michael Wakoski, the incident commander on the fire, told a news conference.
Thick columns of smoke blocked out the sky above mountain peaks as the fire overran a number of properties, leaving behind barren lots with blackened appliances and vehicles stripped of nearly everything but metal.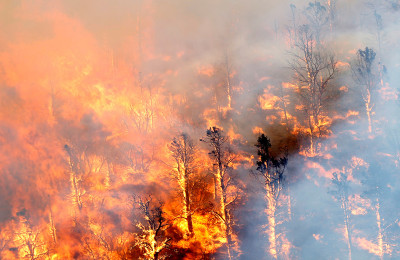 Exactly how many homes have been destroyed, and to whom they belonged, remains uncertain. San Bernardino County fire officials could only confirm that dozens of structures had burned, and that big numbers are likely. "There will be a lot of families that come home to nothing," county Fire Chief Mark Hartwig said Wednesday after flying over a fire scene he described as devastating. "It hit hard. It hit fast. It hit with an intensity that we hadn't seen before," he said.
The Summit Inn, a popular pit stop along the historic Route 66 between Los Angeles to Las Vegas, was destroyed in the fire. The diner opened in 1952 and boasted celebrity guests such as Elvis Presley, Clint Eastwood and Pierce Brosnan.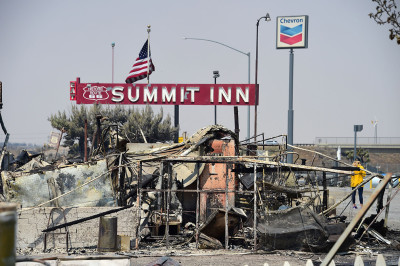 Those assessing damage were also looking for dead and injured, but none had been reported yet. Cadaver dogs were searching the ruins for anyone who was overrun by the flames.
Another large fire, north of San Francisco, was fading. The six-square-mile blaze was 50 percent contained after destroying 268 structures, including 175 homes and eight businesses, in the working-class community of Lower Lake. Damin Pashilk, 40, is charged with starting the blaze along with more than a dozen other counts of arson and one of attempted arson in connection with fires dating back to July 2015. He appeared in court on Wednesday, but he did not enter a plea.
Southern California's peak fire season hasn't even arrived yet. September and October are often the peak of the state's wildfire season. US government forecasters said the area faces a potential threat from major wildfires until December, given the dryness and warm weather. The Santa Ana winds, which sweep desert air to California's coast, are due to arrive next month, California Department of Forestry and Fire Protection spokeswoman Lynne Tolmachoff said.