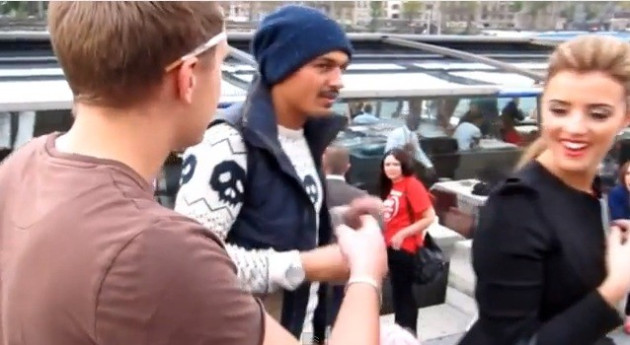 TOWIE's Mario Falcone has been caught on camera lashing out at a lovestruck fan who tried to chat up his girlfriend Lucy Mecklenburgh.
In a 20-second clip making the rounds online, the reality star can be seen getting angry after the unidentified man attempts to hand the brunette beauty his phone number right in from of him.
Before approaching the couple as they leave a speed dating event in Paris, the says to camera: "I'm about to p**s off Mario and give Lucy my number."
He is then seen stopping Mecklenburgh and offering her a card with his contact details on it. But before she has the chance to accept it, Falcone snatches it away, tears it up and throws the pieces in his rival's face.
One fan who watched the video said: "Lol mario is such a clown."
The 24-year-old hunk is said to be weary of other men chasing Mecklenburgh.
In the last series of the show, viewers saw Mecklenburgh break off their engagement after discovering that he had been sending flirty messages to a string of beauties on Twitter.
Last year Lucy also confessed to sleeping with her ex, Mark Wright on holiday in the show's Marbella special.
Watch how Mario stops guys chatting up Lucy here: