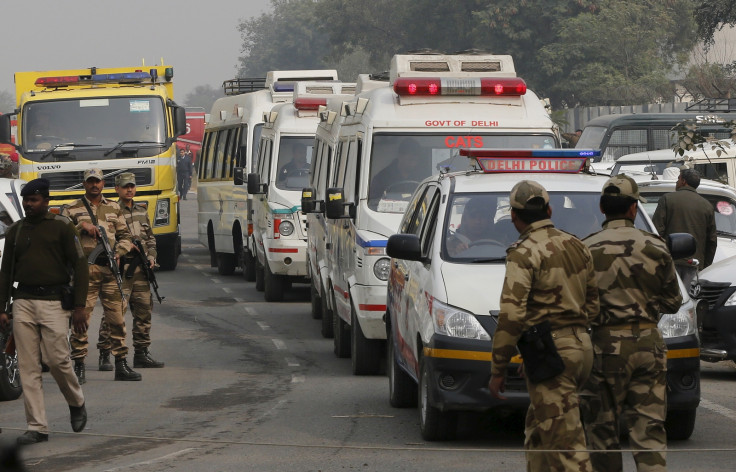 A video, which shows an ambulance carrying a severely injured child stuck on a road blocked for VIP passage in the Indian capital of New Delhi, has gone viral.
Police said that the road blockade was part of security arrangements for the movement of Malaysian President Najib Razak's convoy, who was on a six-day day visit to India.
The video posted online on Tuesday (4 April) has been shared more than 7,000 times and viewed by more than 3,24,000 people, according to the Indian Express newspaper. Commentators on the video have strongly condemned security practices that endanger citizens' lives.
The video showed a bleeding child lying on a stretcher in an ambulance stuck in a heavy traffic jam near gate number 14 of the Indira Gandhi Indoor Stadium in the capital. The people around the ambulance are seen requesting the police personnel to let the vehicle pass as the child's life was in danger. They also questioned if the VIP convoy was more important than a child's life.
Deputy Commissioner of Police (central) MS Randhawa told the newspaper that the ambulance was stuck only for a few minutes. He defended the move, saying police was just following the protocol. He added that soon after it was brought to their notice that an ambulance was stranded in the jam, officers helped it move out of the jam and also allowed to pass through the barricade.
"My team cleared the way for the ambulance, which was stuck at the back of the traffic, and a few minutes later the ambulance was on its way," he said and added that there was no complaint lodged from the family of the patient against the delay.
Traffic jams due to VIP movements are commonplace on Indian roads, especially in capital cities that house the state assemblies. Similar instances in the past have led to debates on the feasibility and legality of traffic blockades that ease VIP movements at the cost of inconvenience of the masses.