The pilots of TransAsia Flight GE235 have been hailed as heroes for their actions which prevented more fatalities in the Taiwan crash.
At least 25 people were killed, mainly Chinese tourists, after the plane crashed into a shallow stream shortly after take-off in the capital city of Taipei.
Dramatic footage emerged showing the plane plummeting over a bridge before clipping its wings and crashing. The footage, recorded on a dashboard camera, appeared to show the plane veering away from nearby buildings in order to escape a bigger catastrophe.
At least 15 people survived the crash, with searches underway for the remaining 18 still missing.
Experts have now praised the two pilots, Liao Jiangzhong and Liu Zizhong, saying the number of fatalities would have been much higher if it wasn't for their quick thinking.
"This pilot decided to land in a narrow river without buildings because there is a residential area nearby. He did all he could do," said Liao Linghui, a Taiwanese aviation expert to the local SET News.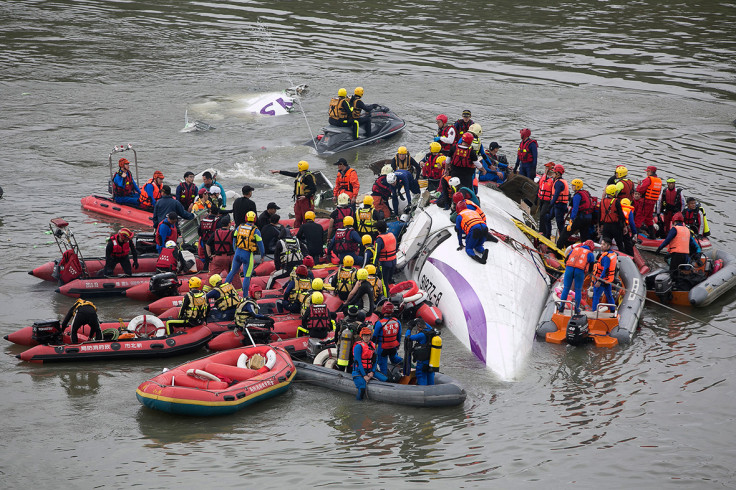 Wang Shangzhi, a commentator in China told local media: "They did their best to stop the flight crashing into buildings. They decided to let the plane crash into the river, which was extremely brave. We should pray for them sincerely."
According to Taipei's fire department, 14 people died instantly following the crash, while a further nine died of their injuries on the way to hospital. The search continues for the missing people on board the flight.
Wu Jun-hong, a Taipei Fire Department official who was co-ordinating the rescue, said: "At the moment, things don't look too optimistic. Those in the front of the plane are likely to have lost their lives."