At least 25 people have been killed after a TransAsia Airways plane with 58 passengers and crew on board crashed into a river shortly after taking off from an airport in Taipei.
As many as 28 people have escaped death after the plane lurched sickeningly between buildings, clipped an overpass with its port-side wing and crashed upside down in the shallow river.
Footage from a dash-cam (dashboard camera) showed the plane's port-side wing clipping an overpass after it missed what appeared to be apartment buildings by metres. A van skidded to a halt, just missing the stricken plane's wing.
The last communication from one of the aircraft's pilots was "Mayday Mayday engine flame-out", according to an air traffic control recording on liveatc.net.
A flame-out occurs when the fuel supply to the engine is interrupted or when there is faulty combustion, resulting in an engine failure. Twin-engined aircraft, however, are usually able to keep flying even when one engine has failed.
Emergency rescue officials in inflatable boats crowded around the partially submerged fuselage of flight GE235, lying on its side in the river.
Television footage showed passengers wearing life jackets wading and swimming out of the river. Taiwanese broadcaster TVBS had a video of a baby being rescued.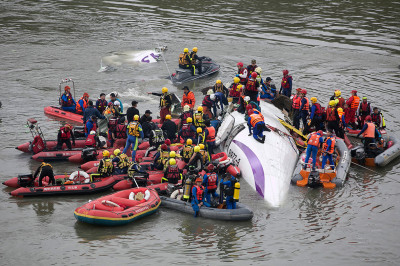 Taipei's Songshan airport, the smaller of the city's two airports, provides mostly domestic flights but also connections to Japan, China and South Korea.
A statement from China's Taiwan Affairs Office said 31 of those on board were tourists from the south-eastern city of Xiamen, which lies close to Taiwan's Kinmen island.