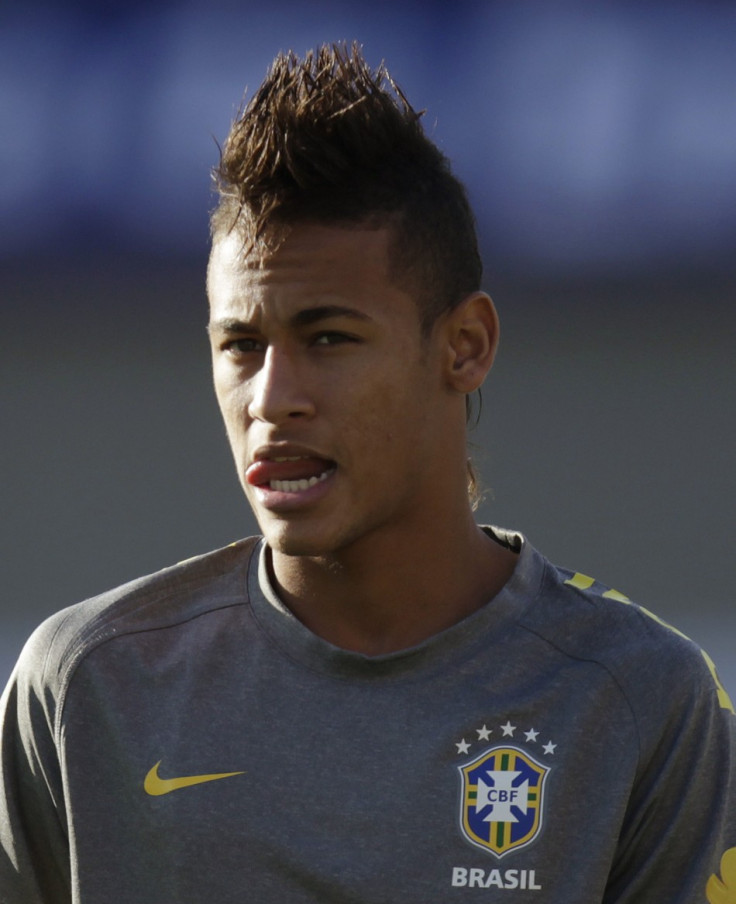 All the latest transfer rumours from across Europe including news from the Bundesliga, La Liga and Serie A. In the news today, Real Madrid has been told all they need to do is pay the release clause for Neymar to secure the striker services. Barcelona are said to have completed a deal for Alex Sanchez after perusing the Chilean international all summer. In Italy, Inter Milan are said to be ready to make a bid for Carlos Tevez while AC Milan are said to be favourites o sign Brazilian Paulo Henrique Ganso. In news surrounding Bayern Munich, the German side face a battle to keep hold of Thomas Muller after Manchester City declares their interest.
The on and off transfer of Neymar to Real Madrid has taken another twist after the Brazilian wonder kids agent Walter Ribeiro revealed the Spanish giants only need to pay for the Santos striker. Speaking to Marca, Ribeiro said: 'There is nothing else to talk about. The only thing left is that Real Madrid pay up. If they do it, Santos has nothing to do, other than receive their share of the transfer.'
Real Madrid striker Karim Benzema has rejected talk of a move away from the Bernabeu this summer. The French striker has said that he will stay at the Bernabeu and continue to work hard. Speaking to AS he said: 'I have not spoken to anyone. I am in Madrid and I want to succeed here. There is nothing else.'
It was thought that Benzema wanted to leave the Bernabeu after falling out with Jose Mourinho on numerous occasions last season and it was reported last week that Arsenal were ready to bid for the striker. However, Karim Benzema now looks likely to stay at Madrid.
Barcelona are said to have finally tied up a deal to bring Alexis Sanchez to Barcelona. Yesterday, Barcelona boss Pep Guardiola said that Sanchez was his number one transfer target and reports in AS this morning claim a deal has been done. Udinese owner Giampaolo told Spanish radio station RAC 1: ''The agreement with Barcelona for Alexis Sanchez is complete.'
The Daily Mail claims that Inter Milan is now ready to make an offer for Manchester City captain Carlos Tevez. The Argentine striker has said he wants to leave the club but Brazilian club Corinthians pulled out of a deal to sign the striker last night. The newspaper claims that the news will now pave the way for Inter Milan to make their move for the Argentine, who is said to be keen on a switch to the Italian giants.
Gazetta Dello Sport has placed AC Milan as favourites to sign Paulo Henrique Ganzo. The midfielder who has been dubbed the 'new Kaka' has been told by Brazil coach Mano Menezes to choose AC Milan over any move to Manchester United. The coach said: 'Ganso? He has the quality and the perfect tactical sense for Italian football. He should improve his energy, but he is young, time plays in his favour. He will develop in Italy'
Finally, in news surrounding Bayern Munich, reports in Germany claim that Manchester City is readying a bid for German star Thomas Muller. The 21 year old shot to the attention of Manchester City after his performances at last year's World Cup. The German international has continued his fine form last season - netting 12 league goals. Manchester City are said to be willing to offer Bayern Munich £45m for the player but will only make the offer once Carlos Tevez has left the club.