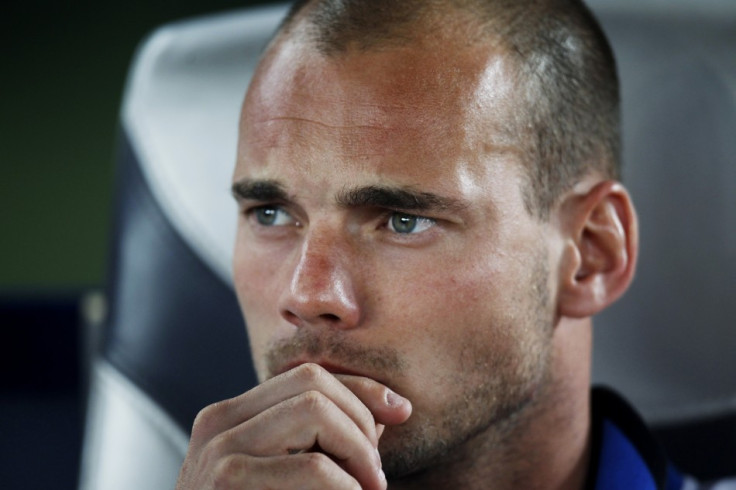 12 August 2011: All The Latest Transfer Rumours From Italy's Serie A
All the latest football transfer rumours from Serie A. Manchester United have pulled out of a deal for Wesley Sneijder, and Eljero Elia has dismissed reports of a move to Juventus. Albert Aquilani has said he wants to stay with Liverpool and AC Milan is ready to offer Mario Balotelli a move from Manchester City. Roma are also said to be calm over the future of Daniele De Rossi.
The Daily Mail claims that Manchester United has pulled out of a deal to sign Inter Milan midfielder Wesley Sneijder.
The newspaper claims that Sneijder has priced himself out of a move to Manchester United after demanding wages in excess of £180,000 per week. United's decision to back off explains the fact that Sneijder's representatives have this week been hawking him around United's Barclays Premier League rivals Chelsea and Manchester City. Neither club have an expressed an interest, with City sources describing the overall cost of the deal as 'mind blowing'.
It now seems that because of Sneijder's somewhat outrageous wage demands the Dutchman will stay at Inter Milan despite reports claiming that he wants to leave the San Siro this summer.
Juventus have been dealt a double blow in their pursuit of new signings this summer. Eljero Elia and Alberto Aquilani have said that they will not be joining the Turin based club this summer.
Elia has said that he does not see Juventus as the right move in his career, saying that he does not see Juventus as having the sufficient ambition to match his ability. Hamburg rejected a £6m offer for the player this week and the player is said to be happy with the German clubs decision.
"The club told me that they won't let me join Juventus, but that's not a problem for me. I've agreed with the club that we'd open talks if a big club like Arsenal or Chelsea comes knocking," Elia told Hamburger Morgenpost.
"There's no need to talk if a club of the same level as HSV is interested. Juventus are still one of the best Italian teams around, but they're not better than Hamburg in my opinion," he added.
Alberto Aquilani has also admitted that he is likely to stay at Anfield this summer. The Italian midfielder was on loan at Juventus last season and it was believed that Juventus were readying an offer to bring the player back to the club but Aquilani has played down speculation of a permanent move to Italy.
"All I can say is that there has been a lot of talk," he said.
"I wasn't following the Italian media much over the summer, but whatever happens I am at a great club like Liverpool. I'd love to make my mark at Liverpool. The transfer market is open until August 31, so we'll see what happens. Obviously I would take the offer of a permanent move into consideration with Liverpool," he continued.
Roma have also claimed that they are calm over the future of the future of Daniele De Rossi. The Italian midfielder's contract expires next season and has yet to commit to the club.
"Yesterday De Rossi played 60 minutes with Italy [in a 2-1 win over Spain] and is doing different training at this time. He will not feature in the Europa League. We have talked [about his contract] but this is a time of waiting. There's no news," manager Luis Enrique said on Thursday.
AC Milan are said to be ready to offer Mario Balotelli a way out of his Manchester City nightmare. The controversial striker has said that he does not like Manchester and his attitude has been attacked by pundits and former Manchester City players.
The Serie A champions are said to want to invent in Balotelli to bolster their squad for the UEFA Champions League next season.
"For the midfield, it will be Aquilani and Montolivo, but I think that Milan's true objective is Balotelli," De Giorgis told Radio Sportiva.