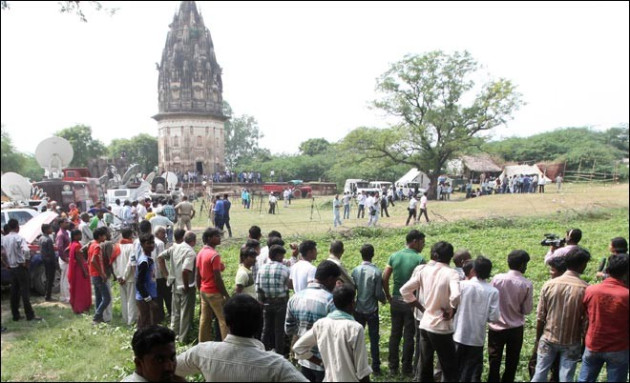 Archaeologists at the Archaeological Survey of India (ASI) have put their shovels and other excavation tools to rest as the excavation in Uttar Pradesh to uncover a hoard of 1,000 tons of gold has revealed only rusted iron and glass bangles so far.
The rushed excavation in Daundia Khera village, about 500 km from Delhi, that began on 18 October with the premonition of Shobhan Sarkar has now been slowed.
"We have received some iron pieces and nails from the excavated area. We have also found some broken glass bangles. Further study would reveal the age of these materials," an ASI official told Mail Today.
About three months ago, Sarkar dreamt that a cache of 1,000 tons of gold is buried at the ruined fort of Rao Ram Baksh Singh, the 19th century ruler of the village in Unnao district.
Archaeologists say that metals or artefacts of only historical and archaeological significance are expected to be found at the ruins of Unnao Fort, and that there is no need to have a hurried excavation to look for the fabled treasure.
"The fort of Rao Ram Baksh Singh must not be more than two centuries old. Obviously, we don't have a solid reason to dig the area, except that a seer who has a tremendous influence on some members of the Union government wants us to follow his instinct and continue the exercise till we find the treasure," he added.
Sarkar has other opponents as well. Rekha Singh Baxi, who claims to be the descendant of Raja Rao, says though silver coins were found several times in Daundiya Khera over the years, there was a very poor chance of finding 1,000 tons of gold.
India's Union Minister of Culture, Chandresh Kumari Katoch, said she was expecting weapons, and not gold, to be uncovered at the excavation site.
"You may find some old pieces of jewellery, people during the war must have run away and left the gold there, means there cannot be 1000 tonnes. It's a hypothetical statement and I can't comment," she was quoted as saying by CNN-IBN.
"If we indeed find 1000 tonnes of gold, there is a gold act and the government will act accordingly."
Sarkar remains determined about his faith. The Hindu sage told his disciple Swami Om, who has been talking with media on Sarka's behalf, that the treasure of 1,000 tons of gold would be found only after digging 16m into ground, which has been dug up to 162cm so far.
The seer has even claimed that an even bigger quantity of the yellow metal, about 2,500 tons of gold, is buried at a village, about 200km away, in the same state.