Trey Songz has become the latest victim of a twitter hoax after an internet troll 'outed' him as gay.
Rumours that the singer had 'come out' began circulating on social media after a photoshopped tweet purportedly sent from his Twitter account surfaced online.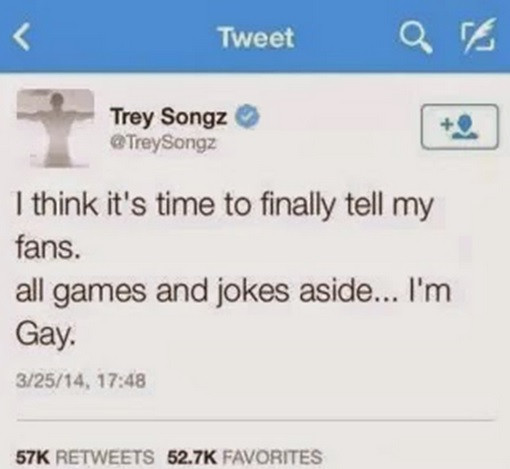 News of his supposed coming out soon provoked myriad responses and retweets.
The Dive In singer soon hit back at the tricksters responsible.
"The things you people craft up with hatred in your hearts. The things people believe without question, or validity, all baffles me," he said.
"Photoshop and a retweet is all people need to believe, any and everything. I feel bad for the impressionable, no minds of their own. If I'm gay then Tupac bringing me a ounce for this session wit Biggie tomorrow. No weapon. #LOVE. Last tweet was funny doe!!"