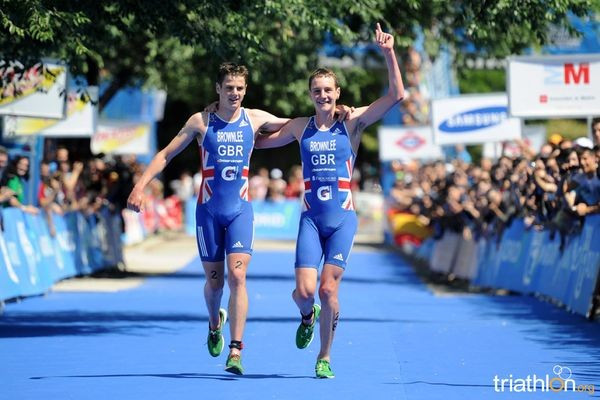 Thousands of fans are expected to flock Hyde Park and the surrounding areas to watch the men's Olympic triathlon.
Gold medal favourites British brothers Alistair and Jonathan Brownlee, 22 and 24, are to race for Team GB with the more experienced Stuart Hayes, 33.
They are up against 52 other athletes, among which Beijing 2008 Olympic champion Jan Frodeno from Germany and the Russians Alexander Bryukhankov and Dmitry Polyanskiy, ranked first and second by the International Triathlon union (ITU).
Fans have been warned to expect closed roads and exceptionally busy areas along the route.
More than 250,000 spectators lined the streets of London to watch the women's competition won by Swiss athlete Nicola Spirig.
Triathlon is one of the most thrilling and arduous Olympic races, as athletes have to complete a 1,500m swim, a 43km bike ride and a 10km run from start to finish, with no brakes.
The transitions between the different disciplines are part of the race and represent one of the most exciting moments, as crucial seconds can be gained or lost there.
The race starts and finishes in Hyde Park, where the athletes begin their three-part contest, swimming in the Serpentine Lake.
They then cycle out on London streets to Buckingham Palace and finally re-enter the park for the last running section.
Apart from the two ticketed areas facing the Serpentine, the access to around 90 per cent of the Triathlon route is free.
The race starts at 11.30 am and is expected to last around two hours.
The IBTimes UK has collated the best areas where you can watch the event for nothing:
Hyde Park
While the North part of the Serpentine hosts the ticketed areas, the rest of the park is ticket-free. Here spectators can cheer on their favourites, enjoying all the three parts of the race. West Carriage Drive, located in between the junction with South Carriage Drive and Rotten Row, offers a dedicated disabled viewing area.
Buckingham Palace
Athletes will cycle in front of Buckingham Palace, where supporters can enjoy a comfortable view of the challenge and admire one of London's most famous landmarks.
Green Park and Buckingham Palace gardens
Athletes will cycle the full length of Constitution Hill. The borders of Green Park and Buckingham Palace gardens are therefore privileged spots to watch them passing by. Another dedicated disabled viewing area is located in front of Canada Gate opposite Queen Victoria Memorial.