With just two episodes to go for the season finale, True Blood is ready to shock fans with twists and surprises.
In the Almost Home episode, Lettie Mae (Adina Porter) finally found peace with Tara (Rutina Wesley), Hoyt (Jim Parrack) and Jessica (Deborah Ann Woll) re-met and Bill (Stephen Moyer) decided to accept death.
Picking up from one of last week's cliffhangers, Eric, Pam and Gus Jr arrived at Sarah Newlin's lair and Eric, after suppressing his initial urge to rip Sarah's throat out, fed from her instead. The effect was immediate, his black veins slowly faded and he returned to his old self.
Were Bill's Civil War-era human life flashbacks about Sookie? Bill thought he had already had the life he wanted, and there was no hope for that in the future.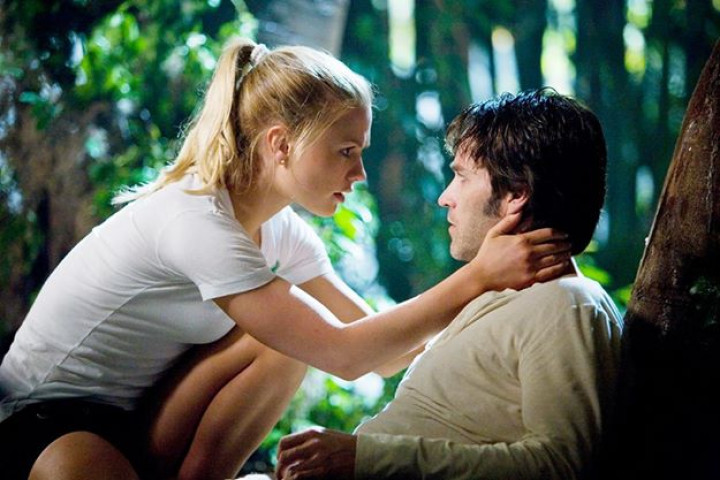 The last two episodes of True Blood final season are likely to provide an answer to why Bill preferred to die over a happy ending with Sookie. At the moment, his refusal to get cured can only mean that he does not believe Sookie will be happy with him in the future. He saw a vision of Sookie rocking a baby and when he went near them, he saw that the baby's face was a featureless, round ball of darkness.
Hoyt and Jessica together?
Also in the episode, Hoyt shot Violet, ending her chapter, before she could harm Jessica, Jason, Wade or Adilyn. Jessica and Jason decided to remain friends. However, there is hope for Jessica and Hoyt, as Hoyt does not want kids while his new girlfriend is looking forward to a complete family picture, with kids.
Tara asks for forgiveness
Tara said her final goodbye to her mother, saying that she should have shot her father and not let her mother suffer for so long. The flashback revealed the story about Tara's abusive, alcoholic father and how he created an ugly scene at Tara's birthday party. Little Tara took her father's gun and instead of pulling the trigger, buried it in the backyard. Soon, her father abandoned them.
In the episode, Bill revealed why Queen Sophie-Anne wanted Sookie. He told Sookie that Sophie-Anne knew of the plan to close the portal to the fae realm, which is why she wanted to start breeding her.
Will Bill die? Or will he take the cure and live happily ever after with Sookie?
True Blood's next episode Love Is to Die will air on august 17th at 9pm on HBO