Trump administration files appeal against travel ban verdict
On 3 February district judge James Robart temporarily suspended Trump's travel ban.
The Trump administration has filed an appeal against the travel ban suspension by a federal judge setting in motion a judicial confrontation between the court and US Justice Department. President Donald Trump is confident that the ban on people traveling to the US from seven Muslim-majority nations will be restored.
"We'll win. For the safety of the country, we'll win," Trump told reporters at a gala in Florida on Saturday (4 February) after the federal government filed the appeal at the Ninth US Circuit Court of Appeals. Besides the Justice Department, President Trump, Homeland Security Secretary John Kelly and Secretary of State Rex Tillerson have been made appellants.
The ruling on 3 February by District Judge James Robart – an appointee of President George W Bush – temporarily suspended the executive order signed by Trump that banned people from Iraq, Syria, Iran, Libya, Somalia, Sudan and Yemen for 90 days and indefinitely suspended entry for Syrians.
Meanwhile, the president hit out at judge Robart on Twitter and said, "The opinion of this so-called judge, which essentially takes law-enforcement away from our country, is ridiculous and will be overturned."
He followed it up with another tweet and said: "When a country is no longer able to say who can, and who cannot, come in & out, especially for reasons of safety &.security – big trouble!"
In also said: "Interesting that certain Middle-Eastern countries agree with the ban. They know if certain people are allowed in its death & destruction!"
As the ban is being temporarily halted as refugees and travellers from the seven countries scramble to enter the US knowing that they may have only a slim window of opportunity. The travel ban had led to massive protests and confusion across airports in the US soon after it was signed on 28 January.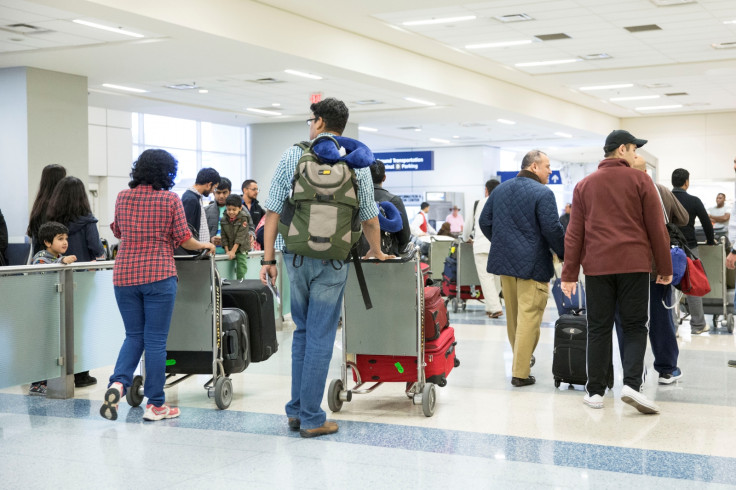 © Copyright IBTimes 2023. All rights reserved.