US President Donald Trump has claimed that angry constituents at town hall meetings hosted by Republican lawmakers are being planted by "liberal activists". GOP members are being met by frustrated constituents who are pushing back against Trump's administration.
"The so-called angry crowds in home districts of some Republicans are actually, in numerous cases, planned out by liberal activists. Sad!" the president tweeted on Tuesday (21 February). His remarks followed reports of protests and tense town hall meetings across the US.
In Iowa, Republican Senator Chuck Grassley was met with a question about impeachment, NBC News reported.
"I am so unsettled. It feels like we have a juvenile running our country," Doug Thompson, a farmer and Democrat, told Grassley at a town hall in Garner. The Republican senator explained the impeachment process but did not divulge his opinion.
Republican Representative Marsha Blackburn dealt with questions ranging from healthcare reform to Trump's cabinet picks and faced protests in her district in Tennessee, The Associated Press reported. About 100 protesters chanted about planned parenthood and immigration outside Blackburn's event near Nashville.
Inside her town hall, the lawmaker's constituents yelled out "alternative facts" and "shame on you for lying" after she answered questions.
"I have always said, you may not agree with me, but you're always going to know where I stand," Blackburn told demonstrators outside Fairview City Hall.
"Having a good, solid, respectful debate, that is something that serves our country well."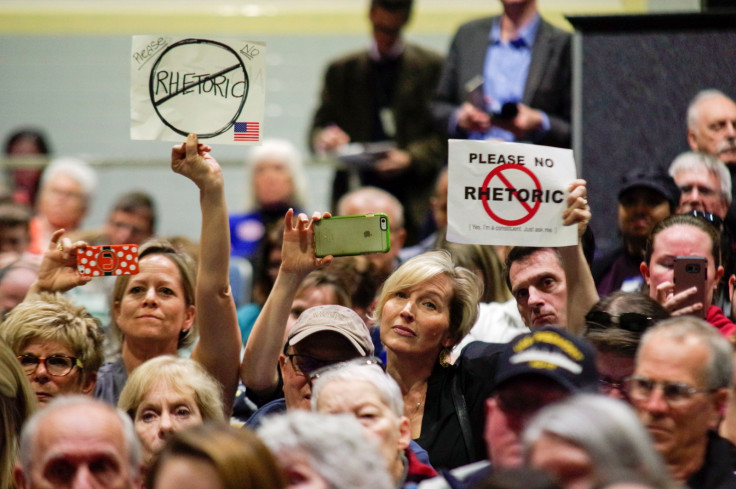 Senate majority leader Mitch McConnell was not spared protests back home in Kentucky. He reportedly told business leaders at his event that "winners make policy and the losers go home" after he was met by 1,000 anti-Trump protesters.
Just a month into Trump's administration, voters are venting their frustrations at their Congressional representatives. On 10 February, Utah Representative Jason Chaffetz was told to "do your job" at a particularly hostile town hall meeting. Chaffetz was often drowned out by jeering as hundreds chanted "vote him out".
Republican lawmakers have also been criticised for cancelling town hall meetings and debates. In Illinois, Representative Peter Roskam faced 18,000 callers in his "telephone town hall" meeting when he cancelled in-person events.
Protesters similarly spoke out against Montana Senator Steve Daines and Pennsylvania Senator Pat Toomey for cancelling appearances.