The US Department of Homeland Security has issued new guidance about immigration enforcement, which paves the way for deporting the country's 11 million undocumented workers.
Two memos unveiled on Tuesday (21 February) instruct federal agents to identify, capture and quickly deport every undocumented immigrant they encounter.
Such a move would fulfil President Donald Trump's campaign promise to crackdown on illegal immigration but would also bring much of the country's rustbelt, which is reliant on cheap foreign labour, to a standstill.
"Department personnel have full authority to arrest or apprehend an alien whom an immigration officer has probable cause to believe is in violation of the immigration laws," one memo said.
"They also have full authority to initiate removal proceedings against any alien who is subject to removal under any provision of the Immigration and Nationality Act."
White House press secretary Sean Spicer said the memos did not represent a goal of mass deportations.
"Everybody who is here illegally is subject to removal at any time. That is consistent with every country, not just ours," Spicer said, reported USA Today.
"But the priority that the president has laid forward [are] the people who have committed a crime or pose a threat to our public."
Massive rights violations
The new policies call for the hiring of thousands of additional federal agents and enlisting local law enforcement to expedite arrests.
Cecillia Wang, director of the ACLU's Immigrants' Rights Project, told the Nation last September that even with thousands of new employees brought on, massive rights violations would occur because of heavy workloads.
"I think you'd see massive due-process violations in the removal system," she said.
"And you would see massive Fourth Amendment and equal-protection violations in the process of trying to detect and arrest people to put them into the deportation pipeline."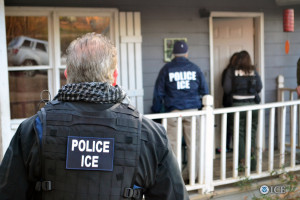 She added: "As things stand right now, there's such a dire lack of capacity in the immigration court system.
"If you decide as president, 'I'm going to go after all the undocumented people in this country and jam them through the immigration court system,' there is just no practical way to do that without more drastically depriving people of their right to make their claims for staying in the United States.
"We'll see a massive breakdown in our system of justice and the deportation system."