Donald Trump has signed into effect an executive order withdrawing the US from the Trans-Pacific Partnership (TPP), a trade deal between the US and 11 countries in the Pacific Rim. Trump had campaigned against the deal, arguing that it did not serve the nation's best interests.
"Great thing for the American worker what we just did," Trump said as he signed the order on his first Monday (23 January) in office, which he had called "day one". Along with the withdrawal, Trump reinstated a rule that stop NGOs funded by the US from discussing or aiding abortion.
The move against TPP was one of Trump's clear campaign promises but has elicited differing reactions from across the aisles in Congress. Democratic Senator and former presidential candidate Bernie Sanders said he is "glad" that TPP is "dead and gone", describing it a part of a series of trade deals that have "cost us millions of decent-paying jobs and caused a 'race to the bottom' which has lowered wages for American workers". He was joined by a number of other Democrats in his praise of the move.
However, within Trump's own party, Senator John McCain described the move as "a serious mistake", saying it will have "lasting consequences for America's economy and our strategic position in the Asia-Pacific region.
"This decision will forfeit the opportunity to promote American exports, reduce trade barriers, open new markets, and protect American invention and innovation," McCain went on. "It will create an opening for China to rewrite the economic rules of the road at the expense of American workers. And it will send a troubling signal of American disengagement in the Asia-Pacific region at a time we can least afford it."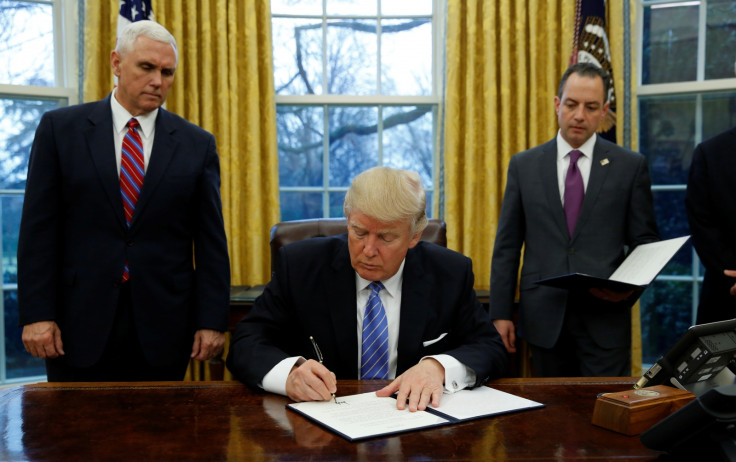 TPP did not include China and was thought to be a means of exerting American economic power in the region and restricting Chinese influence. However, in an attempt to assuage worries that the Trump administration would have a more laissez-faire attitude to disputes in the South China Sea, press secretary Sean Spicer said during his first press briefing that the US would "make sure that we protect our interests" in the area."
"If those islands are in fact in international waters and not part of China proper, then yeah, we're going to make sure that we defend international territories from being taken over by one country," Spicer said.