Trump supporter Rudy Giuliani says GOP nominee is a better choice for president 'than a woman'
The former New York mayor also hailed Trump a 'genius' for allegedly not paying federal taxes.
Rudy Giuliani has said that Donald Trump would make a better choice for the White House than Democrat Hillary Clinton because he is a man. The former New York mayor also declared the GOP nominee a "genius" for allegedly not paying his taxes and dismissed the severity of infidelity.
Giuliani was questioned by several outlets regarding a New York Times report on Saturday (1 October), which alleged that Trump may not have paid federal income tax for nearly 20 years, after filing a $916m (£798m) loss in 1995.
In an interview with ABC News' This Week programme, Giuliani defended Trump's actions as "perfectly legal."
"He's a genius at how to take advantage of legal remedies that can help your company survive and grow. I want a man who's a genius at figuring out how to take this country, that's —moving in the wrong direction, where we've had a basically jobless recovery, where we've had growth of less than 2% for two years," Giuliani said.
He also implied that Trump would be a better president because he is a man.
"Don't you think a man who has this kind of economic genius is a lot better for the United States than a woman, and the only thing she's ever produced is a lot of work for the FBI checking out her emails?"
In another interview aired on NBC's Meet the Press, Giuliani attacked Clinton by claiming she has cheated on her husband, ex-President Bill Clinton. "I don't even think she's loyal to Bill, if you want to know the truth," he told NBC's Chuck Todd, according to CNN. "And really folks, really, why should she be?"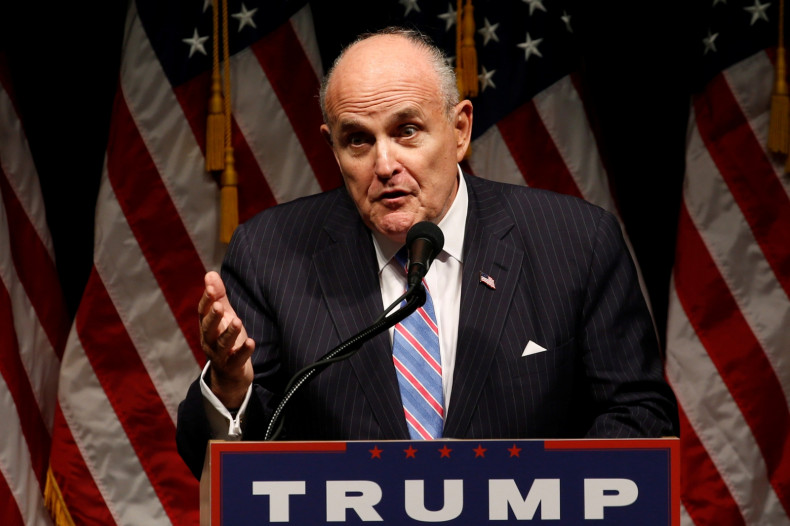 Interviewer Chuck Todd asked whether Guiliani was the right person to level accusations against Clinton regarding her marriage, when the former Mayor of New York has also faced accusations of infidelity. Giuliani said his former career as Justice Department prosecutor was reason enough.
"I'm the right person to level this charge, because I've never made such a charge, and I've prosecuted people who've committed rape," he said. When Todd noted that he has also been charged with infidelity, Giuliani responded: "Well, everybody does. And I'm a Roman Catholic, and I confess those things to my priest."