Trump supporter wears T-shirt calling for journalists to be lynched
The Republican presidential candidate has alleged a media conspiracy to keep him from office.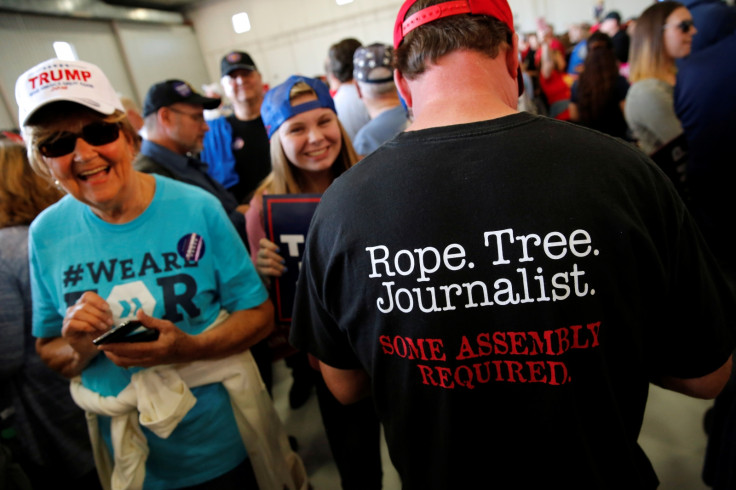 A Donald Trump supporter wore a T-shirt calling for journalists to be lynched at a Republican rally in Minnesota.
"Rope. Tree. Journalist," the words on the shirt read. "Some assembly required."
The man wearing the T-shirt was photographed at a rally for the presidential candidate in Minneapolis on Sunday (6 November).
Trump has frequently railed against the news media at his rallies, accusing journalists of being biased in favour of his Democrat opponent Hillary Clinton, and of being part of a conspiracy to prevent him getting elected.
At a rally in battleground state Florida on 2 November Trump said "There has never been dishonesty like we've seen in this election. Media dishonesty."
At the rally he repeated criticism of NBC reporter Katy Tur, who has allegedly been abused and harassed by Trump supporters at rallies. "We have massive crowds; there's something happening. They're not reporting it," he said.
"Katy, you're not reporting it, Katy," Trump said to Tur. "But there's something happening, Katy. There's something happening, Katy."
In response, journalists have expressed their solidarity with Tur under the hashtag #IStandWithTur.
Trump supporters have been recorded using the German word Lugenpress, or 'lying press', at rallies, a term of abuse which became infamous in Nazi-era Germany, and has recently been popularised again by German anti-immigrant group Pegida.
© Copyright IBTimes 2023. All rights reserved.