Pope Francis has been one of Donald Trump's fiercest critics since the new president took office on 20 January, so when the pair met today at the Vatican there was always a possibility that the atmosphere might sour.
But as they shook hands for the first time – in a room full of reporters and cameramen – no one expected the Argentinian pontiff to make jokes about the 45th president's diet.
The incident took place as Trump introduced the Pope to a veiled Melania on Wednesday (24 May).
The charismatic 80-year-old – a decade Trump's senior – warmly shook the First Lady's hand and said, via an interpreter, "What do you give him to eat? Potica?"
"Potica! Yes!" Melania chuckled, impressed that the Pope was familiar with the nut cake, treasured in her native Slovenia.
A Vatican press officer later explained to journalists that Francis is himself a potica lover and he mentions the sweet treat whenever he is introduced to a Slovenian.
President Trump did not appear too embarrassed by the humourous moment, although observers wondered whether it had been a sideways dig at his weight.
If it was, the president seemed to brush it off with uncharacteristic ease before introducing Francis to his daughter Ivanka.
Potica is pronounced "pot-izz-a" leading some outlets to report that the Pope had suggested Trump's diet had more of an Italian bent.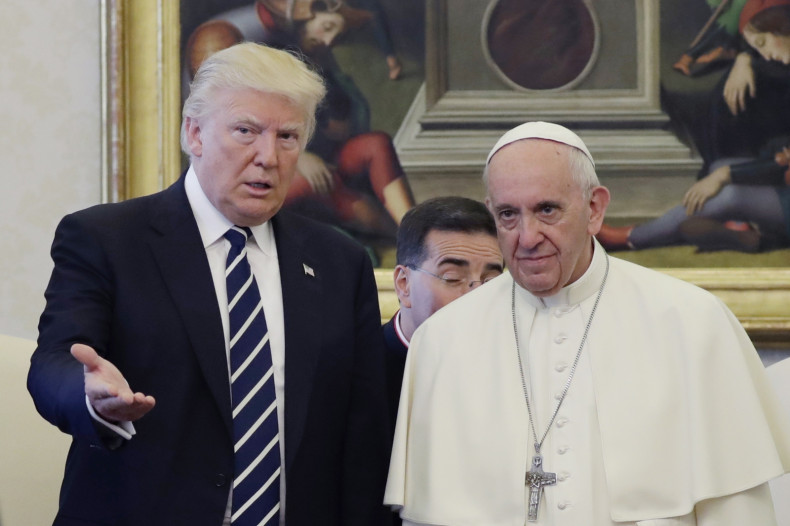 For her part, Melania may have misheard the question and replied "pizza" but her team were quick to confirm that she had in fact understood the Pope perfectly and enjoyed his comic offering.
Trump's first foreign trip in the capacity of US President has so far seen him meeting leaders in Saudi Arabia, Israel and Italy.
Perhaps the biggest story to emerge from the diplomatic mission has been unscripted. It occurred when Melania appeared to brush her husband's hand away as he attempted to hold it at Tel Aviv airport.