Trump vs Clinton: Republican frontrunner accuses Bill Clinton of having 'terrible record of women abuse'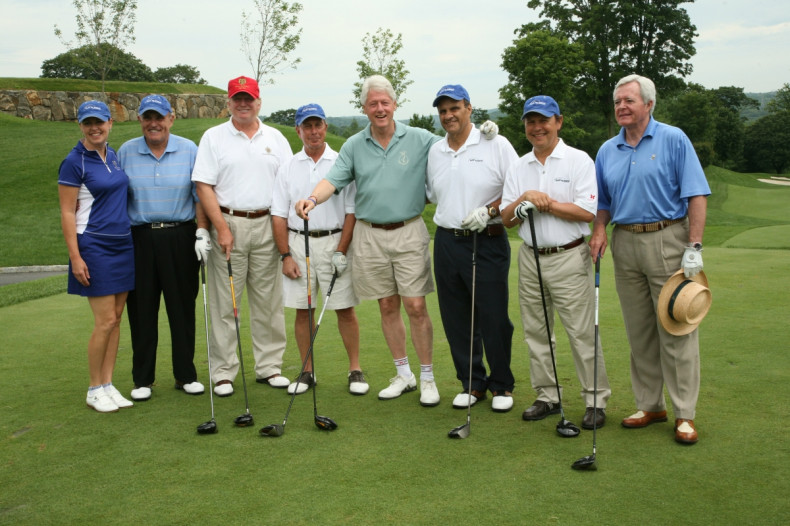 Republican presidential frontrunner Donald Trump is not backing down from his attacks on his biggest Democratic rival, frontrunner Hillary Clinton. In his latest comment, the bombastic real estate mogul has gone after Clinton's husband, former President Bill Clinton.
Following reports that Bill Clinton will be campaigning in Iowa on his wife's behalf, Trump went after the former president accusing him of having a "terrible record of women abuse". Trump took to Twitter on 28 December to write, "If Hillary thinks she can unleash her husband, with his terrible record of women abuse, while playing the women's card on me, she's wrong!"
The comments come on the heels of accusations from Clinton's supporters that Trump has been sexist in his criticisms towards the former secretary of state. Trump called Clinton's bathroom break during the last Democratic debate "disgusting" and later accused her of "playing the women's card".
On 26 December, Trump tweeted that he would "do far more for women than Hillary, and I will keep our country safe, something she will not be able to do-no strength/stamina!" He also blasted Clinton for allowing her husband to campaign for her, claiming, "HE'S DEMONSTRATED A PENCHANT FOR SEXISM, so inappropriate!"
The two leading presidential candidates have gone head to head, with Clinton criticising Trump in the Des Moines Register for "the inflammatory rhetoric that he is using to divide people, and his going after groups of people with hateful, incendiary rhetoric." She continued, "It's not the first time he's demonstrated a penchant for sexism. Again, I'm not sure anybody's surprised that he keeps pushing the envelope." Trump answered by tweeting, "Hillary said 'I really deplore the tone and inflammatory rhetoric of his campaign.' I deplore the death and destruction she caused-stupidity."
According to Real Clear Politics, in a face-off between the two candidates, Clinton continues to lead over Trump with a 5.5 point aggregated average. The recently released Rasmussen Reports shows Clinton leading 37% to 36%, while an earlier poll by CNN/ORC shows her leading 49% to 47%. Clinton demonstrated her biggest lead in the 18 December poll by Fox News, 49% to Trump's 38%.