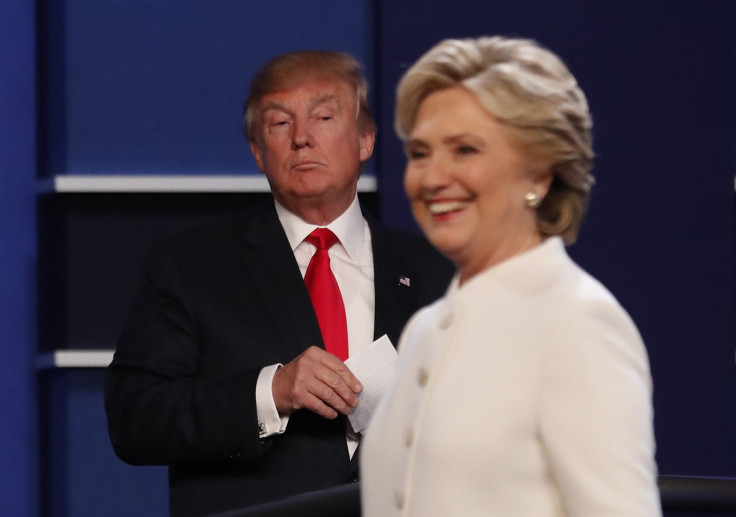 US presidential candidates Hillary Clinton and Donald Trump faced off in their third and final debate at the University of Nevada in Las Vegas on 19 October.
The presidential hopefuls talked about immigration, the economy, the Supreme Court and their fitness to be president, among other issues. They also grilled each other on an array of allegations and accusations, from missing emails to sexual assaults.
One of the highlights of the debate was when the outspoken Republican candidate shared his plans of throwing out all drug lords from the US, addressing them as "bad hombres".
He said: "One of my first acts will be to get all of the drug lords, we have some bad, bad people in this country that have to go out. We'll get them out, secure the border, and once the border is secured, at a later date we'll make a determination as to the rest. But we have some bad hombres here and we're going to get them out."
As expected, Twitter users joined in and trolled Trump for the comment. The phrase quickly spread across the social media platform, even drawing a comment from Merriam Webster's Twitter account.
"Somehow, this night ends with us writing an hombre/ombre/ombré explainer. Of course it does. #debatenight," Merriam Webster's post read.
Trump was also trolled for calling Clinton "a nasty woman" when she was speaking of raising taxes on wealthy Americans to prevent people like him from dodging taxes.
Both his remarks were among the top trending phrases picked up during the debate. The hashtags #BadHombres and #NastyWomen began trending on Twitter fetching mixed reactions from across all corners.
Clinton also found her share of fame on Twitter when she called Trump a "puppet" of Russian President Vladimir Putin. On the mention of WikiLeaks, she accused Trump of supporting Russia on the issue of email hacks and "espionage against Americans". Trump retorted by saying he does not know Putin, but later added that Putin does not like Clinton.
"... from everything I see, (Putin) has no respect for this person (Clinton)", he said. To this, Clinton snapped back, saying: "Well, that's because he'd (Putin would) rather have a puppet as president of the United States."
And Trump only murmured: "No puppet. No puppet", before Clinton switched over to the next topic.
Data released by Twitter's Government & Elections team showed that 59% of conversations revolved around the Republican Trump, while Democrat Clinton garnered 41% of the discussions.
The contenders' discussion on treatment of women was the top tweeted moment of the debate, closely followed by Trump's refusal to say if he would accept the result of the 8 November election. Clinton calling Trump "Putin's puppet" was the third highest tweeted moment.
Some more interesting tweets by debate followers are below: