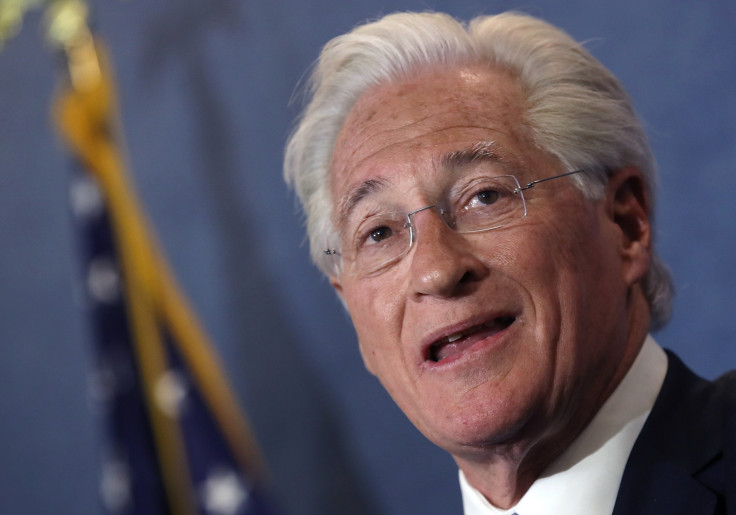 President Donald Trump's personal attorney on the Russia case used profane language in several threatening emails to a man who urged him to resign and stop defending the president.
Marc Kasowitz warned the critic "Watch your back bitch" when he sent him an email with the subject line: "Resign Now."
The man, whose identity has not been revealed, sent the note after watching a segment on MSNBC's Rachel Maddow Show about claims that Kasowitz does not have security clearance and has a history of alcohol abuse, originally reported by NGO ProPublica.
"I believe it is in your interest and the long term interest of your firm for you to resign from your position advising the President re pending federal legal matters," the man wrote. "No good can come from this and in fact your name may turn out to be a disparaging historical footnote to the presidency of DJT."
Kasowitz initially responded: "F*ck you," according to screenshots of the email exchange published by ProPublica. He sent another email 15 minutes later which read: "I'm on you now. You are fucking with me now. Let's see who you are. Watch your back, bitch."
The man responded: "Thank you for your kind reply. I may be in touch as appropriate."
Kasowitz continued to harass the man, sending him another email which read: "Call if you want a conversation. I will have it with you. You are such a piece of shit. Call me. Don't be afraid, you piece of shit. Stand up. If you don't call you're just afraid. Call me."
When the man did not reply, Kasowitz sent him a fourth email. "I'm Jewish. I presume you are too. Call me or give me your number and I will call you. I already know where you live, I'm on you."
Kasowitz's spokesman told the Associated Press that he "intends to apologize." He also denied that the lawyer suffered from alcoholism.
"The person sending that email is entitled to his opinion and I should not have responded in that inappropriate manner," Kasowitz said through his spokesman. "I intend to send him an email stating just that. This is one of those times where one wishes he could reverse the clock, but of course I can't."
Kasowitz is said to be considering resigning from his role over disagreements with Trump's advisers over his strategy for handling the Russia investigation, according to the New York Times.
The whole family is under immense scrutiny after Donald Trump Jr. released an email exchange earlier this week revealing that he met with a Russian lawyer in June 2016 to discuss possible compromising information on the Democratic Party and Hillary Clinton.