Donald Trump Jr was told in an email ahead of a meeting with a Russian lawyer that she had material which could be damaging for Hilary Clinton that could be used to help his father's presidential campaign, according to reports.
The email was sent by British music publicist and former journalist Rob Goldstone while setting up the meeting in June 2016.
The New York Times reports that Goldstone had informed Trump Jr that lawyer Natalia Veselnitskaya could provide damaging material against Clinton which would be used as part of the Kremlin's attempts to get his father into the White House.
Goldstone had set up the meeting with Trump Jr and Veselnitskaya at the request of Russian pop star Emin Agalarov, whose father worked with President Trump to take the Miss Universe contest to Moscow in 2013.
Trump's son-in-law, Jared Kushner, and Trump's then-campaign chairman, Paul Manafort, also attended the meeting, but not the president himself.
Trump Jr said in a statement to the New York Times that he was interested in receiving information about Clinton that could help his father's campaign, but said he was not aware of Veselnitskaya link's to the Kremlin.
The email, which has not been published by the New York Times but described to them by three separate sources, gives no indication as to what the potentially damaging information was, but there is reportedly no evidence to suggest it was related to the hacking and subsequent release of thousands of Democratic National Committee (DNC) emails.
The Times report does not discuss any wider efforts by Moscow to allegedly help Trump in his campaign.
There is already an investigation into whether any of President Trump's associates colluded with Russia to help influence the result of last November's elections.
Trump denies Russia had any involvement in the election, adding he spoke to President Vladimir Putin about the claims during the G20 summit in Hamburg. He tweeted: "I strongly pressed President Putin twice about Russian meddling in our election. He vehemently denied it. I've already given my opinion."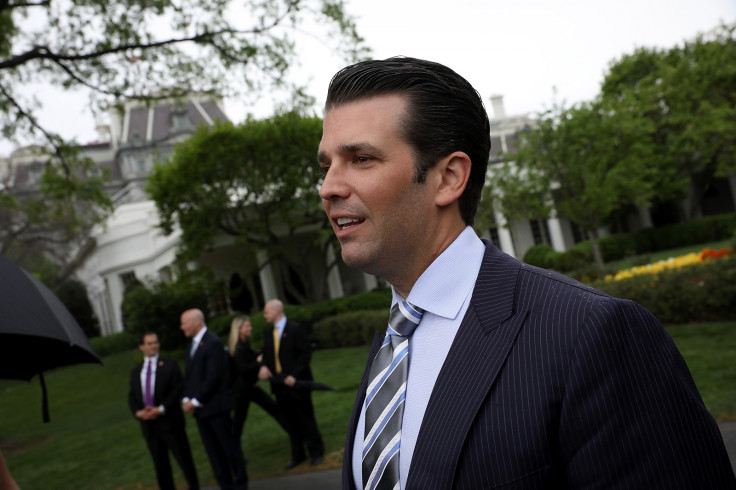 Alan Futerfas, Trump Jr's lawyer handling the Russian investigations, described the New York Times report as "much ado about nothing".
Futerfas added in a statement: "During this busy period, Robert Goldstone contacted Don Jr in an email and suggested that people had information concerning alleged wrongdoing by Democratic party front-runner, Hillary Clinton, in her dealings with Russia. Don Jr's takeaway from this communication was that someone had information potentially helpful to the campaign and it was coming from someone he knew.
"Don Jr had no knowledge as to what specific information, if any, would be discussed. Further, at no time was there ever any understanding or commitment that he, or anyone else, would find the information, whatever it turned out to be, to be reliable, credible or of interest, or would even survive due diligence.
"The meeting lasted about 20-30 minutes, and nothing came of it. His father knew nothing about it. The bottom line is that Don Jr did nothing wrong."
White House spokesperson Sarah Sanders said there was nothing inappropriate about the meeting with Veselnitskaya. "Don Jr took a very short meeting from which there was absolutely no follow-up," Sanders told reporters.