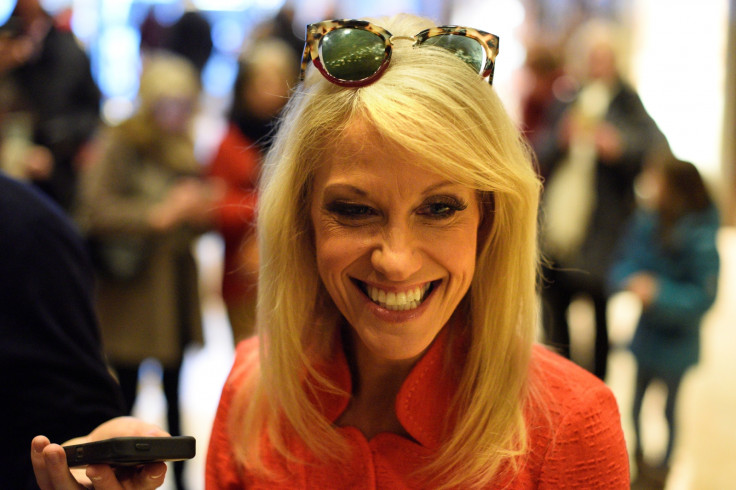 Donald Trump's transition team senior adviser has hit out at feminists critical of her reluctance to accept a full-time White House position due to childcare concerns.
Kellyanne Conway, who worked as Trump's campaign manager during the election, slammed the women who questioned her choices, claiming the people who critcised her were largely child-free or had "cats as their Twitter picture".
"A lot of them who have attacked me are either childless interns born in the 1990s...or I noticed women who have cats as their Twitter pictures, so I'm not going to really just lose my mind over people attacking me in a 140 characters, I can assure you that," she told Fox Business.
"I thought that women were a product of their choices and that's what I'm trying to do here privately and quietly find the best balance for my family," Conway added.
The political strategist and pollster also suggested the majority of attacks on her were to do with her political views rather than the comments she had made about accepting a White House role.
Conway told an audience at the 'women rule' event hosted by Politico: "My children are 12, 12, 8, and 7, which is bad idea, bad idea, bad idea, bad idea for mom going inside [the White House]. They have to come first and those are very fraught ages."
It is said Conway also implied this was the case for any working mother in a high-level job, in a comment that has drawn criticism from social media and in the press, New York magazine reported.
"I woke up at 5 a.m. today,'' one Conway critic Lindsey Stanberry wrote on Refinery29.com. "Before 6 a.m. I had breast-fed my 3-month-old baby, changed two very poopy diapers, eaten breakfast, and started a load of laundry. By 9, I had been at my desk for an hour, sent several emails, edited a story, read the morning news, and pumped three ounces of breast milk.''
She added: "It's totally fine if Conway wants to make her children her top priority right now. Every working parent has to make the right decisions for their own family, and plenty of men and women have stepped away from high-powered positions in D.C. because of family concerns. But it seems as if Conway doesn't think that any mother should be working in the White House."
However, Conway has not made a firm statement on whether or not she will accept a White House role, adding: "Maybe I will go into the administration because I know Donald Trump and my husband are very supportive of that choice as well."