Trump's sons launch luxury golf course in Dubai amid conflict-of-interest concerns
Eric and Donald Trump Jr are now overseeing the vast Trump business empire.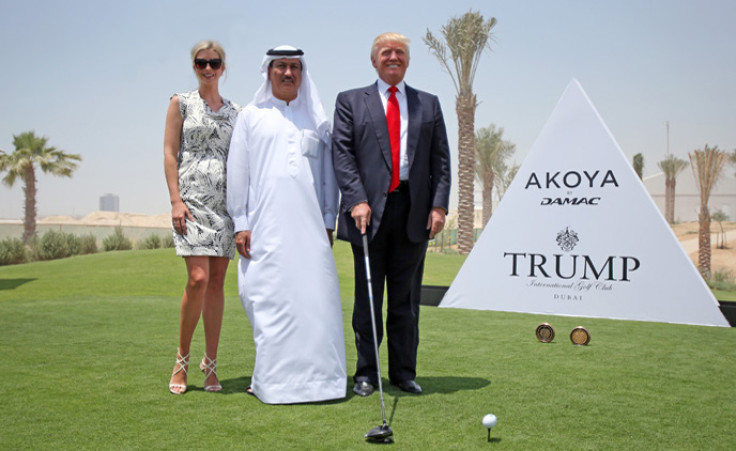 US President Donald Trump's two sons have attended a glitzy opening of his luxury golf course in Dubai, a month after he said he would not do deals with the country.
Eric and Donald Jr were given the red-carpet treatment at the launch of the Trump International Golf Course on Saturday (18 February), where they posed for pictures with Gulf property magnate Hussain Sajwani.
The pair now manage Trump's vast business empire across the world, which many claimed posed a conflict of interests and was a violation of the US Constitution's emolument clause, which prevents public officials from accepting payments or gifts from foreign governments without congressional consent.
There are also concerns that Trump's business interests could open him up to bribes or threats from foreign governments.
A corporate membership at the club is about $15,000 (£12,000) up front, plus about $21,800 per year, according to Bloomberg. A single person can join for $6,800 plus a $9,530 annual fee.
The 18-hole course is part of a larger villa and apartment building project by Damac Properties Dubai, owned by Sajwani.
It will contain over 9,000 villas and condos, which will sell between $1.3m and $4m per property, according to the Washington Post.
In January, Trump said he was offered $2bn by Sajwani for a new deal, which he said he turned down in an effort to quell speculation business interests would override his responsibility as president.
"Over the weekend, I was offered $2bn to do a deal in Dubai with a very, very amazing man, a great developer from the Middle East," Trump said, in what was his first press conference since being elected.
"I turned it down. I didn't have to turn it down."
Despite the comments, the Trump empire's dealings in the United Arab Emirates are set to grow even further, with another Trump-branded golf course set to open next year.
According to a Federal Election Commission report last year, Trump received between $1m and $5m from Damac Properties.
© Copyright IBTimes 2023. All rights reserved.