US President Donald Trump's state visit to the UK is reportedly at risk due to fears of a row with the Prince of Wales over climate change.
Charles has been an environmental campaigner for decades, whereas Trump has repeatedly labelled climate change a "hoax" and that it was "created by the Chinese" to damage American manufacturing.
If the state visit goes ahead, the Sunday Times revealed Charles is not expected to keep silent about his beliefs, causing members of Trump's inner circle to be reluctant about the visit.
A senior US government source told the paper that Charles is considered the most serious "risk factor" of the visit and that if Charles was to "lecture" Trump about green issues, the president will "erupt" if pushed.
A source close to Trump said: "He won't put up with being lectured by anyone, even a member of the Royal Family. Frankly, they should think twice about putting him and Prince Charles in the same room together."
A senior British government source familiar with the discussions said: "Trump's people are worried about an awkward moment, with Charles saying 'Why don't you believe in climate change?' or 'Have you read my book?' They will react quite strongly to that.
"They do not want the president to be put in an awkward position where he's being lectured. They want horses down the Mall, tea with William and Kate. They want all that pomp and for it to go seamlessly, and one of the risk factors is Charles.
"Their paranoia of the media means that anything that goes slightly off-pitch will be hammered back home as him not getting a good reception from the future king of England and thousands of people protesting on the streets."
Trump's advisers have signalled the president would rather meet Princes William and Harry, instead of Charles, due to the possible row.
Royal sources told the Times it would be a major breach of protocol for the president to attempt to sideline Charles during the visit.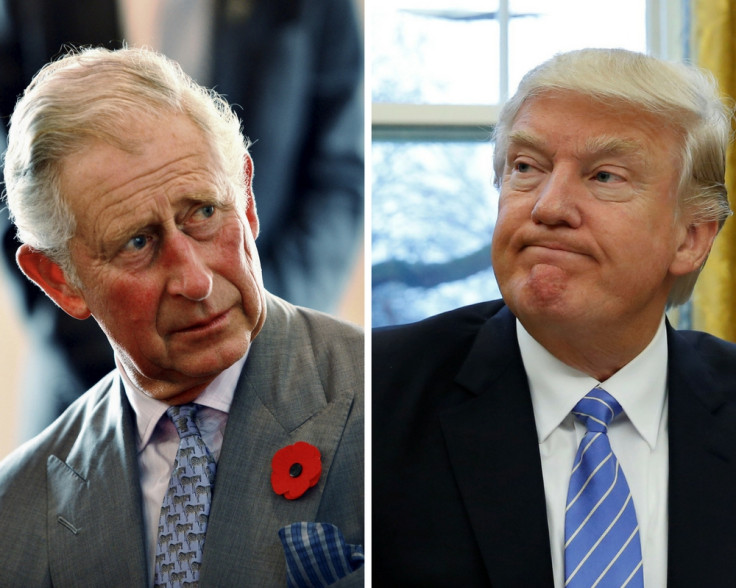 The royal source said: "State visits usually have a moment where the prince and the Duchess of Cornwall attend a lunch hosted by the Queen for the incoming head of state. The prince is very relaxed about having his own meeting with President Trump. We stand ready to follow that format.
"We are very clear the prince will carry out his role in a state visit as always, and his views on climate change would not and should not affect his ability to do that.
"The prince has ideologically divergent views from many world leaders. The environment and climate change are issues he has talked about for decades. But they are not issues he would turn into a personal, one-to-one battle with one person."
A second royal source made it clear that Charles would raise the subject of climate change. "It would be odd for the prince not to raise climate change but he is more likely to say 'We must touch upon this elephant in the room' at the end of any meeting, rather than make it a key area of discussion."
From the British side, Trump's visit has raised concerns that the president will betray the confidence of the Queen by tweeting about their exchange.
Trump has previously tweeted about nude pictures of the Duchess of Cambridge and said: "Who wouldn't take Kate's picture and make lots of money if she does the nude sunbathing."
In another row, after Trump was asked if he could have "nailed" Princess Diana. He said, "I think I could have".