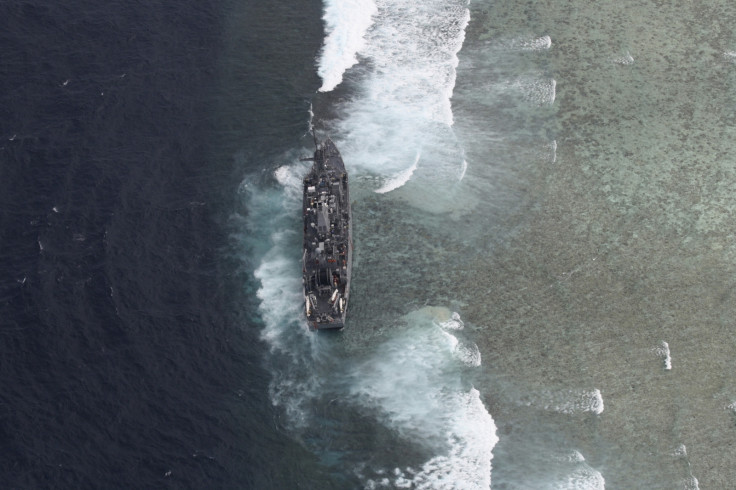 The United States paid almost $2m to the Philippines as reparation for damage caused by a US navy vessel that ran aground on the UN-protected Tubbataha Reef.
The government in Manila said they received the full sum of 87 million pesos (£1.28m, $1.97m) which they requested after minesweeper USS Guardian wrecked on the in the Tubbataha national marine park in January 2013.
"The compensation will be utilized for the protection and rehabilitation of Natural Park, a UNESCO World Heritage Site," the Philippines foreign ministry said, adding that Washington was also providing additional assistance to the local Coast Guard in upgrading its station at the park.
The US embassy in Manila apologised for the accident and confirmed the compensation figure, although using a rather generous conversion rate.
"The United States deeply regrets the incident at the Tubbataha Reef and the damage caused to the reef and has agreed to the total amount of compensation requested by the Philippine government of 87 million pesos ($2.02 million US dollars)," the Embassy said in a statement.
Some 2,345 square meters (25,240 square feet) of protected corals were damaged as the USS Guardian ran aground on the southeastern reef in the Sulu Sea, according to a joint assessment by park authorities the WWF and marine experts.
The vessel was later dismantled piece by piece to avoid its movement causing further destruction as it remained stuck on the rocks, exposed to winds and waves.
A US navy investigation concluded the incident was the result of a series of preventable errors from its staff.
"This tragic mishap was wholly preventable and was the product of poor voyage planning, poor execution, and unfortunate circumstances," the report said.
"USS Guardian leadership and watch teams failed to adhere to prudent, safe, and sound navigation principles which would have alerted them to approaching dangers with sufficient time to take mitigating action."
The ship's commanding officer, executive officer and navigator, assistant navigator and officer on deck were subsequently relieved.