The Tunisian government has imposed a country-wide curfew in the face of growing unrest after a night of violence sparked by protests over high youth unemployment.
Images on social media have shown instances of night-time looting and clashes between police and protestors. One member of the security forces has been killed in the violence. The government said he was killed when demonstrators flipped his car, in a village in Feriana in the Kasserine region where protests began.
Tunisia's feared security forces have responded with teargas and water cannons to the unrest, which has spread as far as Tunis. Associated Press reported some police stations were attacked with Molotov cocktails, and in the capital groups raided banks, shops and warehouses.
The suicide of unemployed graduate Ridha Yahyaoui over unfair hiring practices in rural Kasserine has galvanised opinion over soaring youth unemployment in Tunisia. Two more young people in the south have attempted suicide over jobs following Yahyaoui's suicide. With youth unemployment at 30%, the young make up more than a third of the North African nation's jobless population.
His death has hit struck a chord in the fledgling democracy, where five years ago the self-immolation of Mohamed Bouazizi brought about the ousting of toppled dictator Zine El Abidine Ben Ali.
Speaking in France last night Tunisia's prime minister, Habib Essid, said the two deaths were not comparable. "Tunisia has completely changed from a dictatorship to a young democracy. You know during youth there are periods of adolescence that you have to get through," he told France 24. "We have a difficult job and we are aware of the difficulty."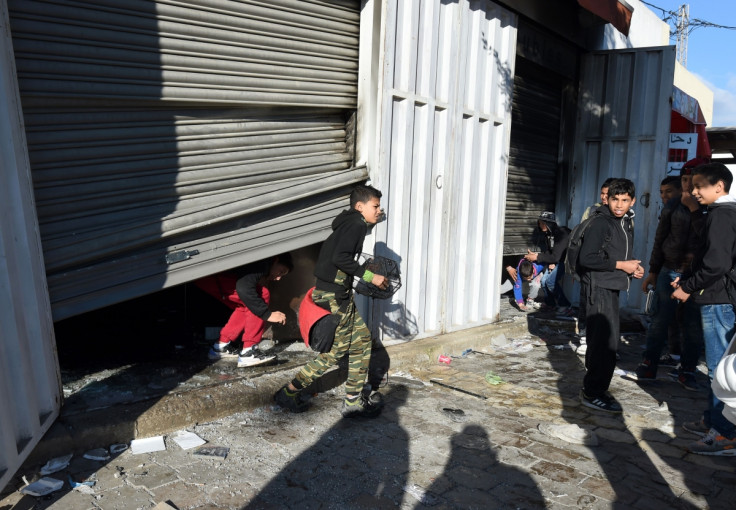 Despite relative stability in Tunisia, which has been hailed as the region's sole success story following the 2011 uprisings, the country has not been completely spared the Islamic State (Isis) violence visited upon the failed Arab Spring countries of Syria and neighbouring Libya.
Tunisian gunman Seifeddine Rezgui returned from an IS (Daesh) training camp in Libya to his own impoverished town of Gaafour before opening fire on tourists on a beach in Sousse killing 38 in June 2015. The attack dealt a body blow to tourism in the country, following earlier jihadist attacks on Tunis' Bardo museum killing 21 in March, costing jobs Tunisia could not afford to lose.