Deadly clashes have erupted in Tunisia's poverty-stricken south between security forces and protesters, killing one police man and wounding eight others, as demonstrators demand an end to rampant unemployment.
Five years after protests in Tunisia toppled dictator Zine El Abidine Ben Ali and sparked the Arab Spring, thousands have taken to the streets across the country calling for "work, freedom, dignity," the cry of Tunisian youth today, the same as it was in 2011. Just as the self-immolation of Mohamed Bouazizi acted as a catalyst to the Tunisians' grievances five years ago, so too has the death of graduate Ridha Yahyaoui galvanised opinion in Kasserine.
The death of the unemployed protester, who was electrocuted while climbing a pylon, has galvanised opinion. AP reported Yahyaoui was protesting rejection from a government job in the region when he died. Unemployment among young people in Tunisia stands at 30%, double the national average of 15%.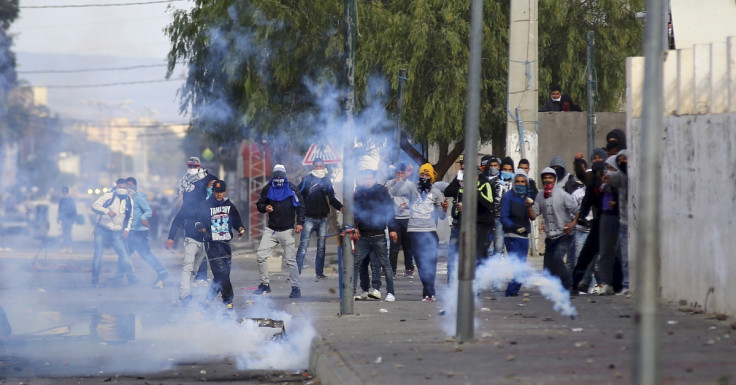 Following death of the 28-year-old, protests grew in Kasserine with thousands protesting across the country in solidarity, including in the capital Tunis. Forty were injured in the protests. Tunisia's Interior Ministry said the police officer killed in the clashes died in Feriana when he was attacked by the crowd as he tried to leave his car.
The security services have deployed teargas and water cannon in efforts to quell the demonstrators but with little success. Rzouga Selmi, a human rights activist from Tunis, told IBTimes UK at present protests were growing with marches and sit-ins taking place at different government headquarters. He said the capital crowds were starting to grow outside the Ministry of Interior and Union buildings.
"It's happening now because January is becoming a symbolic month for protesting and other different movements," Selmi explained. "Tunisians are not happy with the revolution of 2011. Before they wanted to give the government the chance to work and change things," he added.
Selmi said many felt solidarity with Yahyaoui who he claimed he had been discriminated against. He said there was a nervousness in the country about the outcome of protests but this had been overcome by the desire to see change. "A lot of people are afraid to see the country turn out like Libya or Syria, particularly as the Islamic State (IS) in Libya is just over the border ... but people are ready and committed too," he said.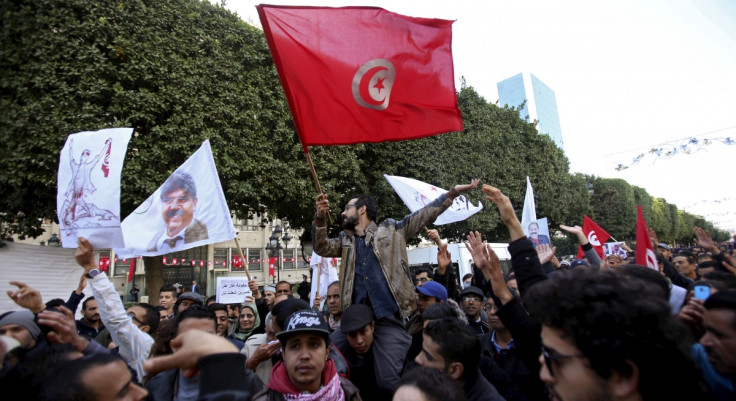 Despite relative stability in Tunisia, hailed as the region's sole success story following the region's 2011 uprisings, the country has not been completely spared Isis (Daesh) violence visited upon the failed Arab Spring countries of Syria and neighbouring Libya.
Tunisian gunman Seifeddine Rezgui returned from an Islamic State training camp in Libya to his own impoverished town of Gaafour before opening fire on tourists on a beach in Sousse killing 38 in June 2015. The attack dealt a body blow to tourism in the country, following earlier jihadist attacks on Tunis' Bardo museum killing 21 in March, costing jobs Tunisia could not afford to lose.
Selmi explained that aside from the unemployment issue, Tunisians were aggrieved over increasing police brutality and draconian penal laws which impinged upon human rights. However, he said there was little appetite for a second revolution amid fears radical groups might take advantage of the chaos. "They have had enough of words and want action but they are not saying 'degage'. They are not demanding a change in government," he said.