A group of British school children stranded at Istanbul airport were left 'petrified' fearing a gunman was on the loose. The students, from Arthur Terry School, who are on a trip to South Africa, scrambled for cover after hearing 'explosions' from the runway.
Turkey is still reeling in the wake of the military coup attempt that resulted in bloodshed on the streets of the Turkish capital Ankara and Istanbul last night (15 July).
As tensions remain high, the 41 school children, who were waiting for a connecting flight to South Africa, witnessed the aftermath of the failed uprising that left 250 dead, with tanks still on the runway and fighter jets flying overhead.
Writing on Facebook, Lisa Ledbury, 43, a parent who was accompanying the students, described chaotic scenes that left the children scared and panic-stricken. "All the Arthur Terry South Africa trip kids arrived at Ataturk airport just before the news reported a military coup," she explained. "All flights were grounded. They have seen tanks on the runway, fighter jets flying over and heard the explosion that was reported as a bomb.
"At one point all chaos ensued when someone shouted 'gun' and everyone started to run with people shouting 'get down, get down'.
She said they had received no support from the British embassy or Turkish Airlines. "They are so scared and getting absolutely no information whatsoever from Turkish Airlines. The British embassy cannot even get hold of anyone from the airline. The airline staff have vanished, they have not had food or drinks and are petrified. Turkish airlines are not answering their phones, messages or tweets."
The desperate mother called on social users for help writing: "PLEASE COPY AND PASTE TO YOUR STATUS in the hope that they can get help and we can get our kids out of this Godforsaken place."
She described it as "The longest night of our lives." Another parent also sent a tweet to British PM Theresa May calling for urgent assistance.
The children, who attend the school in Sutton Coldfield, in the West Midlands, flew from Birmingham to Istanbul Ataturk airport where they were due to get a connecting flight for a 10-day visit to South Africa yesterday Mail Online reports. They were forced the spend the night in the airport after 244 Turkish Airlines flights were cancelled.
Customers affected by the cancellations are being offered a refund, but little assistance has been offered to those who remain stranded. In a statement, the airline said: "Given these exceptional circumstances, customers due to depart on 16th July 2016 and who no longer wish to travel, can cancel and receive a full refund, or amend to another holiday currently on sale subject to availability. All flights departing on Monday 18th July 2016 are operating as normal."
The British Foreign Office have re-iterated warnings to stay away from public spaces. Updated advice on the Foreign Office website said:"There has been large-scale military action in Turkey, with the military deployed to the streets and widespread reports of gunfire and explosions in Ankara and Istanbul.
"The situation now appears quieter in Istanbul, and the bridges across the Bosphorus are reopening. But there are reports of tank fire and small arms fire in Ankara. Some flights to airports in Turkey are being diverted or cancelled. The road between Marmaris and Icmeler remains closed, following earlier reports of gunfire between the resorts of Marmaris and Icmeler.
"We strongly advise you to stay indoors, avoid public places, in particular demonstrations, and remain vigilant."
A spokeswoman for Arthur Terry School has said that despite their ordeal all the children are "safe and well."
"The students are safe and well and they are accompanied by seven outstanding and experienced members of staff and a member of the British Embassy. The headteacher has been in constant communication with the British Consulate, parents and the assistant headteacher, who is accompanying the students."
In an update on the school's website today, it was reported that the students and staff are now booked onto a flight into Cape Town at 01:05.
In a statement the school's Headteachers, Neil Warner and Richard Gill said: "Students are delighted and have made us all very proud with how they have reacted to a challenging situation. We will update again as appropriate. Thank you for all your support, best wishes and patience."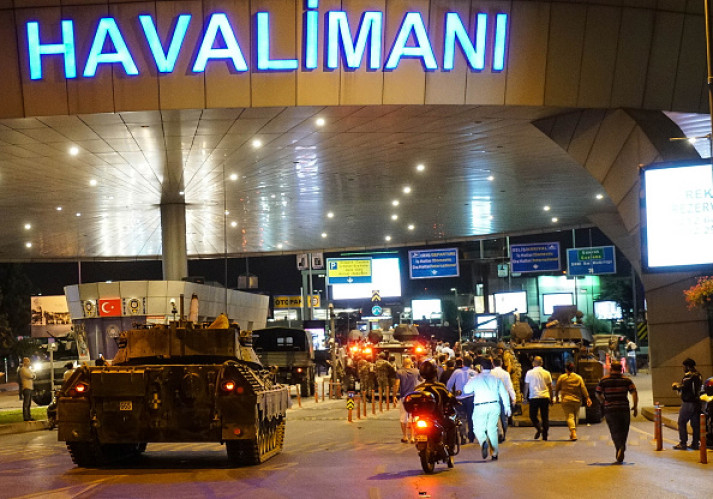 Attempts to oust President Erdogan saw gunfire and explosions rock Istanbul and the capital, Ankara. More than 1,400 people were wounded as citizens took to the streets in protest after Erdogan urged them stop the uprising. He said the plotters had "pointed the people's guns against the people".
Prime Minister Binali Yildirim says 161 people were "martyred" throughout the country. The total death toll stands at 265 people, including coup plotters. More than 2,800 military personnel have been detained across Turkey as President Erdogan insists that the government has regained control of the country.