Turkish police have arrested 44 supporters of popular moderate cleric Fethullah Gulen in what has been viewed as a politically motivated crackdown on supporters of President Recep Tayyip Erdogan's main rival. Citing local and state media, Reuters reported that Turkish security forces had carried out a series of raids across 18 provinces, making the 44 arrests.
Among those arrested are police chiefs and administrators who were reported to have acted "beyond their legal authority". Fethullah Gulen, a pluralist, has been forced into exile in the US. He is wanted by Turkish authorities and could face a prison sentence of more than 30 years for allegedly seeking to ouster Turkey's authoritarian president and other charges which ranged from espionage to funding and managing armed gangs.
The Erdogan regime attracted widespread criticism for targeting pro-opposition media in a bid to stifle criticism of his government ahead of last week's parliamentary polls. Turkish police on 28 October stormed the Istanbul headquarters of the Koza-Ipek media group that has links to Gulen.
Journalists, scriptwriters, producers and a police chief were detained by the Turkish authorities, following the issuing of an official arrest warrant.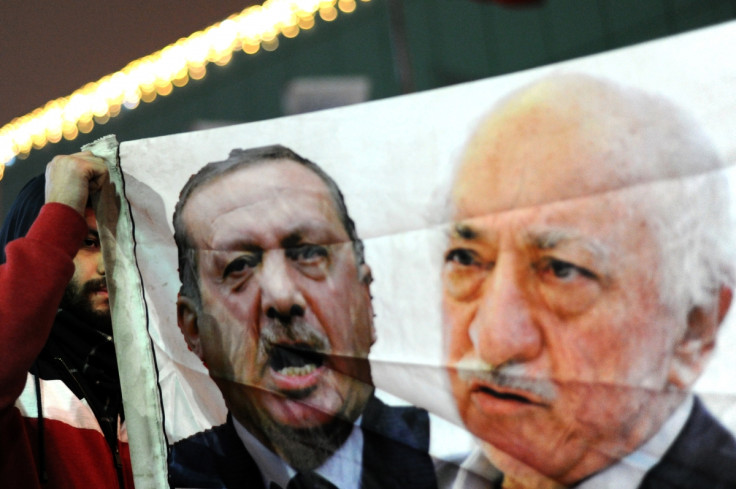 The reclusive religious cleric who lives in a gated farming community in Pennsylvania, has been placed on Turkey's most-wanted terrorist list, along with leaders of the Islamic State militant group and Kurdish and left-wing guerillas.
His followers in Turkey have also been accused by Erdogan of attempting a coup, after they launched a corruption charge probe into the president's inner circle in 2013.
In a surprise election result, Erdogan's Justice and Development Party (AKP) was returned with a majority in Turkey's legislative polls on 1 November. In a return to single-party rule, Turkey's strongman is expected to seize further executive powers.
The AKP's resounding victory has been seen as a response to widespread fear in the Turkish electorate over the advent of IS and an emboldened Kurdish insurrection.
The moderate Islamist party lost its majority in previous legislative elections because of a resurgence in Kurdish nationalism which granted unprecedented gains to the moderate pro-Kurdish People's Democratic Party.
Tensions between Turkish communities and ethnic Kurds have reignited in Turkey as Kurdish fighters have formed a vanguard in the fight against the Islamic State (Isis). Prior to rise of IS in Syria, a rapprochement had been in the works to resolve 40-years of Turkey-PKK conflict.