Turkey Soma Disaster: Mine Explosions 'Normal' Says Erdogan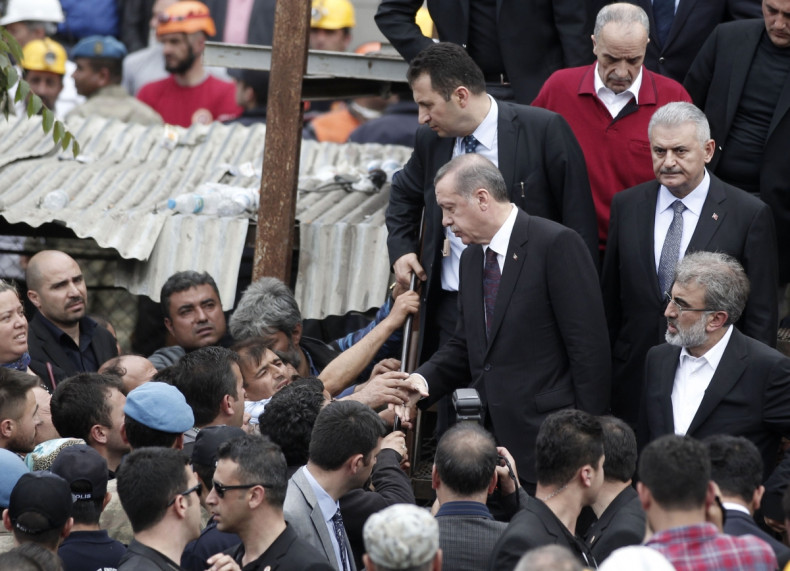 Turkish prime minister Recep Erdogan has said that labour accidents such as the fatal explosion that killed hundreds at a coal mine in Soma are "normal".
"There is something that is called a labour accident in literature. This is part of its nature. But the dimension of this accident has deeply moved us," Erdogan said as he visited the site of the disaster.
The PM also claimed that explosions are a regular occurrence at coal mines, citing UK cases form the 19th century and accidents in China and Japan in the 1940s and 1960s.
The comments echoed a controversial remark Erdogan made in 2010 as he dismissed another deadly mine disaster as the work of fate.
That year the PM claimed that the death of 30 workers at a mine operated by the state-owned Turkish Coal Corporation (TKK) in Zonguldak province was unsurprising due to the dangerous nature of the profession.
"The people of the region are quite used to events like these. This profession has this in its destiny," Erdogan said then.
"The workers get into the profession knowing that these kinds of incidents may occur."
The comment has caused a fresh backlash at the Turkish prime minister as it was seized upon by demonstrators protesting about the explosion that killed at least 238 miners and left hundreds trapped underground in Soma.
In Istanbul a group of demonstrators sprayed "Murderers" on the walls outside the offices of the company that owns the coal mine Soma Holdings and held placards reading: "This is murder not fate".
People anger have been fuelled by accusations that Erdogan's ruling AK Party dismissed a parliamentary motion submitted by the opposition Republican People's Party (CHP) to investigate safety in the Soma mines as recently as 29 April.
The CHP local deputy for Manisa province, where Soma is located had denounced the frequent mine accidents and deaths that should have served as warning to avoid major disasters. But the parliament rejected the investigation with votes from the AK Party.
An AKP lawmaker from the same province even boasted that Turkish mines were safer than others, according to reports.
The hashtag #kazadegilcinayet, which roughly translates as "murder not an accident" is trending on Twitter.
Erdogan had rebutted criticism saying that the CHP motion had "nothing to do with the Soma mine."
According to the general Mine Workers Union in Turkey, between 2000 and 2009, there were 25,655 accidents in TTK-run mines, injuring 26,324, with 63 miners losing their lives.