At least 20 civilians were killed and 50 others injured in Turkish air strikes and artillery fire in Syria on Sunday (28 August), the fifth day of the offensive against Islamic State (Isis) and Kurdish forces, a monitor group said.
Rami Abdel Rahman, head of the Syrian Observatory for Human Rights, said the casualties occurred at Jeb el-Kussa, a village just south of Jarablus.
On Saturday, Turkish artillery and jets hit Kurdish forces in northern Syria, as Turkey stepped up its cross-border offensive with air strikes.
Turkish military sources told Reuters that two F-16 fighter jets bombarded a site controlled by the YPG militia, which is a significant part of the US-backed Syrian Democratic Forces (SDF). The sources said the warplanes hit six Isis targets. The military added that one Turkish soldier was killed and three were injured when Kurdish forces fired rockets at Turkish tanks.
The Jarablus Military Council, an affiliate of the SDF, said their fighters were targeted, and described the attack as an "unprecedented and dangerous escalation". Ankara has said that the offensive it began in Syria is as much about fighting Isis as it is about preventing Kurdish forces from making territorial gains in Syria along the Turkish border.
The ratcheting up of the offensive by Turkey sparked concerns that it could lead to an all-out conflict between Syrian Kurds (YPG) and Turkey, thus diverting energy and resources away from the fight against Isis.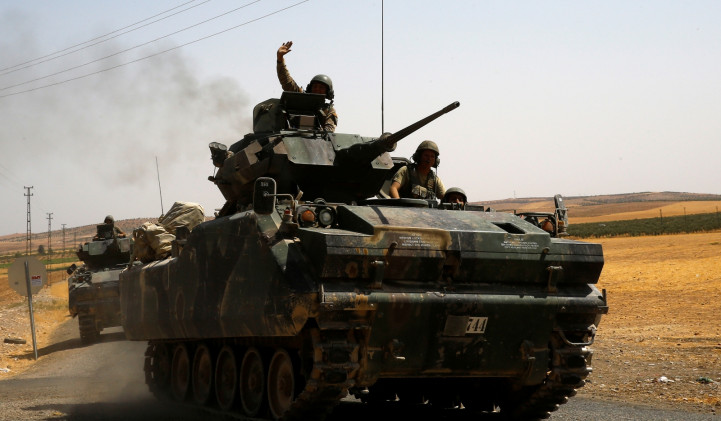 Turkey's operation in Syria started on Wednesday (24 August), arming its rebel allies with tanks, warplanes and ground forces. It has said that the operation will go on until there is no more terrorist threat to the country. Syrian rebels on Saturday said they had captured several villages, south of Jarablus, from Isis and Kurdish forces.
Meanwhile, the UN's special envoy to Syria, Staffan De Mistura, urged the opposition to approve plans to deliver aid to rebel-held eastern Aleppo and government-controlled western Aleppo through a regime-held route north of the city during a 48-hour humanitarian pause.
"People are suffering and need assistance. Time is of the essence. All must put the civilian population of Aleppo first and exert their influence now," he said.