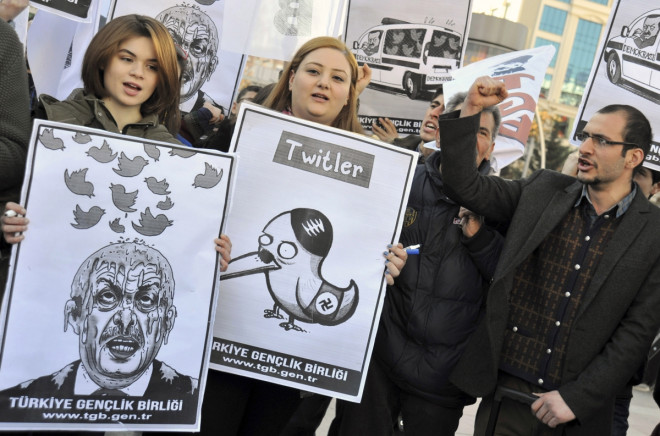 Google has refused to remove audio recordings from its video sharing website YouTube which allegedly feature Turkish Prime Minister Erdogan discussing a corrupt deal with his son.
The videos contain a voice recording in which a male said to be Erdogan can be heard telling another male to hide money from criminal investigators.
Erdogan claims the videos, which have been viewed millions of times on the website in Turkey, have been faked as part of a plan to topple his government.
But Google has refused a request from the Turkish government to take down the videos:
"We support a free and open Internet throughout the world and are concerned whenever and wherever it comes under threat," a Google spokesman said.
YouTube, Twitter and Facebook have all been used to distribute the recording.
Millions of Turks have taken to Twitter to express their defiance of a government attempt to ban the site on Thursday.
A Google source told the Wall Street Journal that the Turkish government might attempt to block access to YouTube in the country, but for now it remains online.
In the 13 hours after Twitter was taken down at about 23:00 on Thursday, 20 March, more than 6 million Turks used the site, up from 4.5 million over the same period the previous day.
Repeated government attempts to ban website access mean many Turks have become adept at changing their Domain Name System (DNS) or connecting via a Virtual Private Network (VPN) on their smartphones to side-step restrictions.
Yesterday there were hopes that the Twitter block would be removed, after a lawyer from the San Francisco company met with representatives from the Turkish government.
However one of the most popular means of circumventing the ban, by using the Google DNS 8.8.8.8 and 8.8.4.4, was blocked by the government on Saturday.
The DNS address had previously been graffitied on to walls by protesters publicising ways to defy the government.
The Turkish government claims that Twitter was taken down after "hundreds of court orders" and a prosecutor's decision requesting that the San Francisco-based company take down material.
Three Twitter users, "Sons of Thieves", "Crime Minister", and "Fuat Avni" have been revealed to be behind the leaked recordings, which allegedly prove deep corruption in Erdogan's government.
Istanbul's chief prosecutor said yesterday that there had been no request from the prosecutor's office, and the ban had been the result of an executive order.
Listen to the alleged Erdogan recording on YouTube, below.