Turkey: Women's rights are a 'bleeding wound' under Erdogan's legacy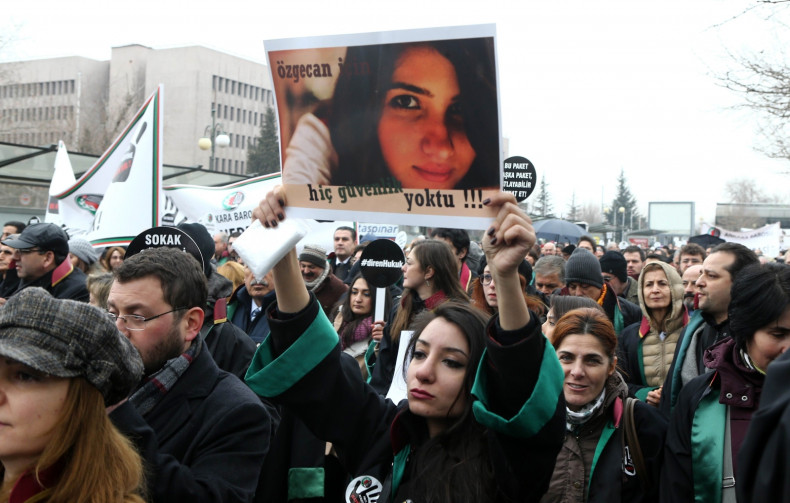 Thousands of female protesters took to the streets of Istanbul, Ankara and Mersin over the weekend to protest at the brutal murder of Özgecan Aslan, a tragic death which is a symbol of the growing trend of violence against women in Turkey.
Aslan, a student at Çağ University in the southern city of Tarsus, was stabbed to death after resisting a rape attempt by a bus driver while she travelled home. Her burned remains were discovered in a riverbed last Friday, three days after she disappeared.
Crowds gathered at Aslan's funeral in her hometown of Mersin on Saturday. As a show of defiance, Aslan's casket was shouldered by women – not men, as is religious custom. But it was of little comfort to her mother, Songül. "My beautiful daughter, how could these monsters sacrifice my beautiful girl?" she cried outside the cemetery.
Human rights groups have long-criticised the state of women's rights in Turkey, a nation that sits between Europe and Asia. The Islamic-rooted government of Recep Tayyip Erdoğan and the leading Justice and Development Party (AKP) have been accused by critics of seeking to erode the country's secular principles, to limit the civil liberties of women.
In the last ten years, which have coincided with Erdoğan's appointment as Turkey's first elected president, women's rights are slipping. Amid the protests over Aslan's death, he pledged to take firm action against violence against women – Turkey's "bleeding wound" – but women's rights groups remain unconvinced. They say that government officials' remarks about women and how they should be treated has left them exposed to violence.
"The murder of Özgecan Aslan cannot be seen as a single brutal act of men. Although the legislation on violence against women has been improved in the recent years, these laws are not implemented in favour of women," Kadinin Insan Haklari, of the Istanbul-based Women for Women's Human Rights – New Ways Foundation, told IBTimes UK.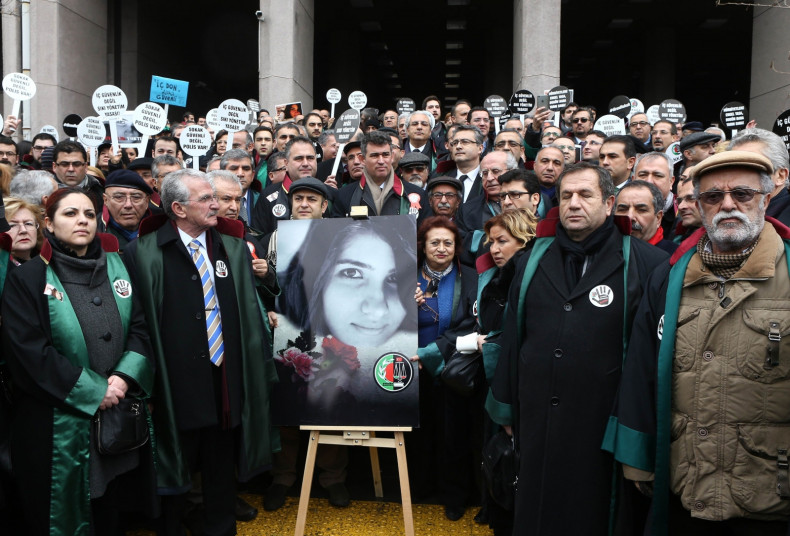 Erdoğan's government has been credited with several laws seemingly in favour of women. A ban was lifted on headscarves for female university students in 2011, and in 2013, it was lifted for women working in government offices.
In 2012, the Turkish parliament enacted a new law on protection from domestic violence and, in the same year, it became the first country to ratify a Council of Europe treaty on violence against women known as the Istanbul Convention.
Yet critics say that these progressive laws were more for political reasons, rather than advancing women's rights, and the anti-violence legislation hasn't been effectively enforced – claims that appear substantiated when we consider recent statistics.
The civil rights group We Will Stop Murder of Women Platform recently reported that nearly 300 women were killed by men in Turkey in 2014, with over 100 more raped. In January 2015 alone, according to the independent Turkish News Agency Bianet, 27 women were killed by men.
"The persistent sexist discourse of the government and the policies that strengthen traditional roles of women do not reduce violence against women – it's quite the opposite, they encourage men," Haklari said.
"The numbers confirm this increase of violence against women. In 2014, 281 women are murdered, mostly by their husbands, partners, fathers and sons."
Turkey's problem isn't just limited to violence. In 2013, the country was ranked 120 of 136 nations in terms of gender gaps in education, politics, health and economics by the World Economic Forum. As of 2012, only a third of women in Turkey had jobs, and the country has a startling number of child brides – nearly 7,000 girls between the ages of 13 and 17 were married over the last decade.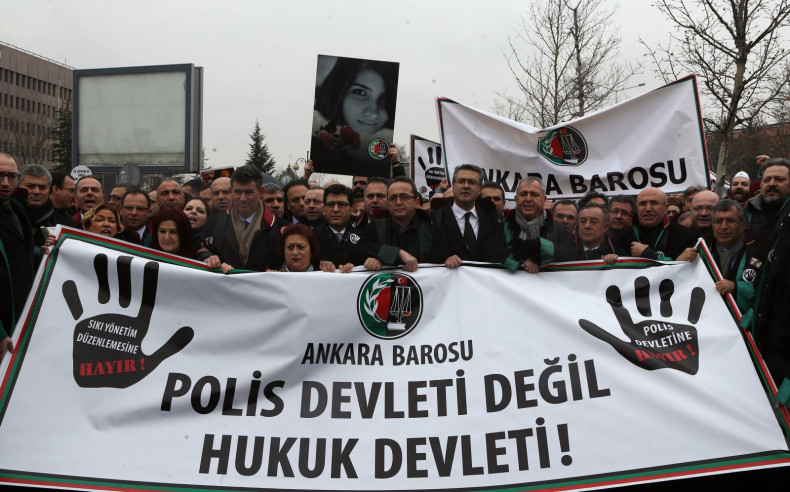 These dismal statistics are the byproduct of the attitude of Erdoğan and other AKP leaders, critics say. In November 2014, Erdogan made headlines by announcing at a summit on women and justice in Istanbul that women are not equal to men "because it goes against the laws of nature". While the world reacted in outrage, his comments were replaced by tired cynicism in Turkey – where women have heard it all, and more, before.
Erdoğan has publicly chastised women over abortion rights, childbirth and marriage. Abortion became legal in Turkey in 1983, but in 2012, Erdoğan denounced it as "murder" - threatening to limit abortions after four weeks of pregnancy. The previous year, Erdogan said Turkish families were to have at least three children "so Turkey can increase its population". He has also been quoted as telling young female university students to "marry when offered".
Female leaders within the main opposition party to Erdoğan's conservative AKP, the Republican People's Party, say the turning point came in 2010, when Erdoğan told representatives from women's rights organisations that he didn't believe in gender equality.
One year later, he changed the name of the Ministry for Women and Family to the Minister of Family and Social Policies. It is the removal of "women" that has been read by many as an implicit attempt to undermine women – to imply that women are seen by the government as mothers or wives, not individuals. Shortly afterwards, the name of the Parliamentary Commission on Gender Equality was changed to the Equal Opportunities Commission.
"The AKP government has certainly promoted the family over the rights of women," Emma Sinclair-Webb, an Istanbul-based senior researcher for Human Rights Watch told IBTimes UK. "From the very top of the government comes a discourse denying the equality of men and women and calling on women to have at least three children."
"More concretely, the AKP has introduced steps such as limiting the term during which an abortion may be legally performed, making it in practice very difficult for many women to have an abortion," she added. "Women's participation in the workforce in Turkey is still low."