Turkey is set to extend the state of emergency for three more months as the referendum results came out in favour of President Recep Tayyip Erdogan. This is despite protests against the Turkish leader, who has won sweeping powers through the referendum.
Voting took place on Sunday, (16 April), and a little over 50% of Turks decided that their country should switch to an executive presidency from parliamentary system of government. While the opposition parties and independent observers challenged the veracity of the election outcome, Erdogan and his supporters have hailed the results.
Speaking late on Monday, 17 April, Deputy Prime Minister Numan Kurtulmus said the cabinet agreed to extend the state of emergency on the recommendations of the National Security Council. After the cabinet nod, the parliament needs to ratify the state of emergency declaration.
"The decision to recommend extending the state of emergency was taken in order to ensure the continuity of precautions the protect democracy, the rule of law, and the rights and freedoms of our citizens in an efficient manner," the council said in a statement.
The council, chaired by Erdogan, convened a special meeting on Monday to discuss the existing situation across the country over referendum results. According to the Turkish constitution, the state of emergency can be in force for a maximum period of six months.
The emergency was put in place after a botched coup attempt in July 2016. A state of emergency would bestow vast powers on the security forces to detain and arrest people – which critics point out have been extensively misused in the last nine months.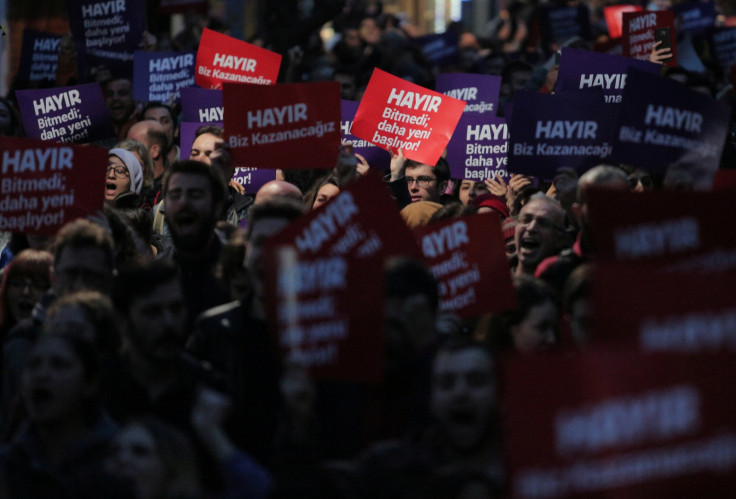 Meanwhile, protests have been simmering in many parts including Ankara, Istanbul and Izmir – three of the largest cities in the country that voted against Erdogan. "We are shoulder to shoulder against fascism," shouted a crowd of demonstrators in Turkey's largest city of Istanbul.
The country's main opposition party Republican People's Party (CHP) has also called for cancelling the referendum results owing to widespread irregularities in the process. "The only way to end ongoing discussions over the referendum's legitimacy is to annul it. What is necessary is the annulment of this referendum," the party's deputy leader Bulent Tezcan told reporters.